Why TikTok Will Crush Instagram Snap as Social Media Users Age
Ratings: 'NCIS' Adds 20,000 Viewers With Episode After Mark Harmon's Exit
Getty Images
Why TikTok May Crush Instagram and Snapchat as Social Media Users Grow Up | Charts
The platform hit 1 billion monthly users this year, with more growth expected through 2023
The viral video app TikTok is on track to beat its social media competitors in attracting more users and gaining more engagement, especially among Gen Z.
This year, TikTok will gain more Gen Z users than Instagram and more total users than Snap by 2023, according to eMarketer. The app, acquired by Chinese tech company ByteDance in 2017, has already surpassed Facebook in usage time. In September, TikTok hit 1 billion monthly users; Facebook reported 3.5 billion monthly users in Q2.
Continue reading
Join WrapPRO for Exclusive Content,
Full Video Access, Premium Events, and More!
"TikTok is addictive," Debra Aho Williamson, principal analyst at eMarketer, told TheWrap. "Its algorithm that determines which videos people see when they start scrolling the app is incredible. Video creators have quickly learned how to maximize TikTok's video creation features to build suspense and keep users watching."
Even Hollywood is looking to platforms like TikTok and YouTube for emerging stars and creators, as more influencers make their name and money on these apps. And lately, all the platforms from Facebook to Snap have been shelling out millions in an effort to win over creators. In August, YouTube said it had paid out some $30 million to creators in the last three years, and TikTok last year started a $1 billion creator fund in the US spread over three years, with plans to likely double that globally, the company said.
"We'll have to wait and see how TikTok performs in the future," said Stephanie Chan, mobile insights strategist for Sensor Tower. "ByteDance has made moves to strengthen its creator ecosystem and forge corporate partnerships that contribute to its continuing success."
TikTok did not respond to requests for comment.
This upward trend is backed up by data from market intelligence firm Sensor Tower, which reported TikTok reaching 3 billion downloads across the Apple and Google app stores in Q3 — making it the first app that is not owned by Facebook to hold this top spot. TikTok is now the most downloaded app globally for the fifth consecutive quarter, with China, U.S. and Indonesia as the top markets, according to Sensor Tower.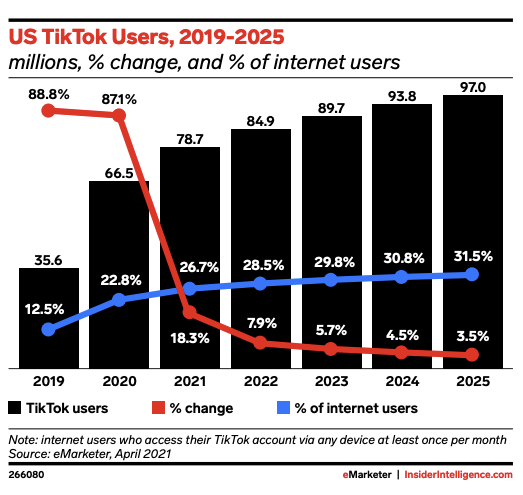 "TikTok has certainly seen explosive growth, especially in the last year and a half after the onset of the COVID-19 pandemic," Chan said. "The velocity of TikTok's adoption picked up significantly after its first billion downloads, which took more than four years to reach. It took five more quarters to reach 2 billion, and another five quarters to reach 3 billion."
TikTok holds several advantages as it strengthens this position against its tech competitors. As Instagram's user base ages, it is losing out on Gen Z users (those born between 1997 and 2012) who are more engaged on TikTok and other apps. This is coupled with the fact that in 2021 Facebook will see its slowest growth ever in users — less than 1% to 179.5 million users, according to eMarketer. The pandemic throughout 2020 was a boon to many social platforms, but that growth has since been winding down.
"Even though many of Tiktok's videos are quite short, it can add up to a huge amount of usage time each day," Williamson told TheWrap. Based on eMarketer's U.S. forecast, TikTok will continue to be the top social network where users spend the most time through 2023. In 2020, users spent an average of 39 minutes per day on TikTok, followed by an average of 35 minutes a day for Facebook.
"The Facebook experience is less compelling. As users have started to disengage, the mix of content has shifted more toward Group posts, suggested content and other material that isn't necessarily from the friends and family you are connected to. That makes for a less engaging user experience," Williamson added.
Although other apps have introduced TikTok-like features, there are no actual contenders in short-form videos. Instagram's Reels may be in a position to challenge TikTok, because Facebook will invest a lot of money into video, Williamson noted, but the others don't pose much of a threat to TikTok's addictive formula.
"Mature platforms such as Instagram and Snapchat have the advantage of a massive pre-existing audience," Chan said. "That said, established platforms will have to overcome challenges such as user education as consumers may already be used to using their apps in certain ways."