What It Is Really Like To Work With Malia Obama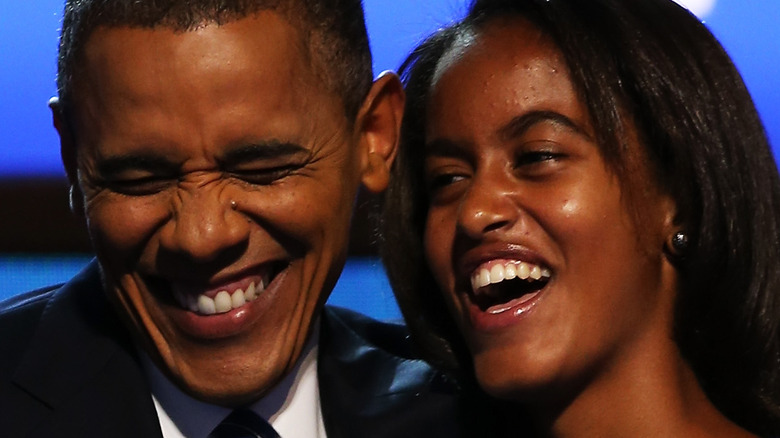 Although she's grown up in the shadow of her famous parents, and with the eyes of the world watching her every move no less, Malia Obama continues to prove herself to be an exceptional young lady in her own right. As Vogue UK details, she started her Harvard education in 2017 after taking a gap year. Obama toured many Ivy League colleges before settling on the legendary institution, and was likely fielding offers from several, too. She might be one of the most famous kids in the world, but the former president's ambitious eldest daughter has her eyes set on a real career. 
She interned on the set of Lena Dunham's celebrated dramedy "Girls" at the age of 16 and subsequently scored another internship at high-profile production company The Weinstein Company. Evidently, Obama has her eyes on the prize.
In early 2021, The Hollywood Reporter confirmed she had joined the writing staff of producer Donald Glover's new show for Amazon Studios. Marking her first post-college gig; the position was surely one any young TV writer in training would be delighted to have. As for how Obama proved herself as an intern, unsurprisingly she did great. 
The president's eldest daughter impressed everybody with her attitude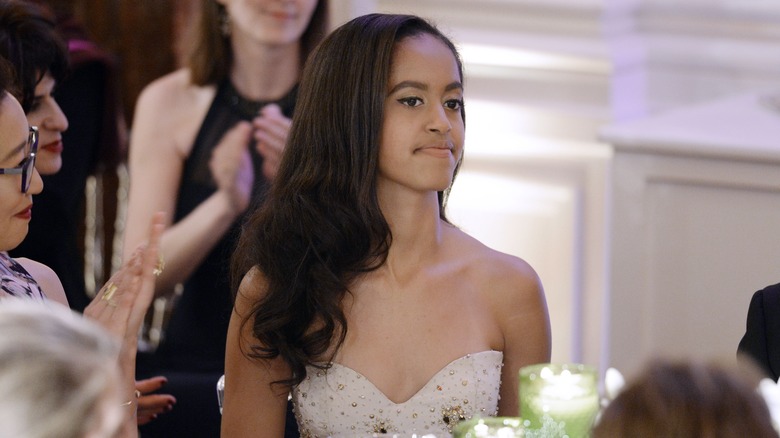 Donald Glover, known for his music work as Childish Gambino, as an actor on "Community," and for creating and appearing in his own fan-favorite show, "Atlanta," took producing duties on a series penned by "Watchmen" producer Janine Nebers as part of his overall deal at Amazon Studios. And, as THR noted, Glover and Nabers took none other than Malia Obama along for the ride, hiring her as a writer on the exciting project. The intrepid up-and-comer previously worked as a production assistant on the Halle Berry-led sci-fi series "Extant," at CBS, and even interned as a teenager alongside Lena Dunham on "Girls" (via THR). 
According to Dunham, although she and the rest of the crew were hesitant to make Obama do regular intern jobs such as grabbing coffee, the president's eldest daughter was very eager to please. As Hello! magazine notes, during a chat with Howard Stern, the "Girls" creator and star gushed, "she wanted to do all the jobs. That was the cool thing. She was totally enthusiastic." Elsewhere, Dunham described Obama as "so smart." The Harvard grad is likely going to make just as much of a splash in her role with Glover, Obama's very first professional writing job, at which she's proven herself more than capable of excelling.
Source: Read Full Article