What Has Kate Middleton Been Teaching Her Children Over Their Summer Holiday?
Kate Middleton has been spending time with her three children, Prince George, Princess Charlotte, and Prince Louis, this summer before her little ones head back to school. The Cambridges have been laying relatively low due to the ongoing coronavirus pandemic, but did manage to escape the hustle and bustle of London for a bit. According to Town & Country, the family enjoyed some time on the Isles of Scilly, a spot that they have visited the past two years. Outside of that, The Sun reports that the family has been having a no frills summer, spending as much time outdoors as possible — which is a must for Kate.
The Duchess of Cambridge has been very supportive of outdoor learning and exploring, not just for her own children, but for kids all over the world. "The great outdoors provides an open playground for children to have fun and learn lifelong skills – from balance and coordination to empathy and creativity – with their friends, their parents, their carers, or their family members," Kate said back in 2019, according to People magazine. Given Kate's feelings on the great outdoors, it's no surprise to hear what she's been teaching her kids this year. Keep reading to find out.
The Cambridge children are learning how to sail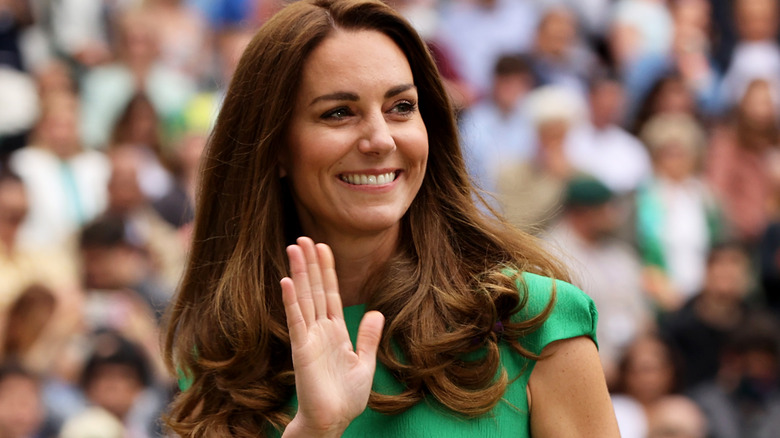 Kate Middleton has quite a few favorite pastimes. For example, she really enjoys tennis, and is often in attendance at Wimbledon, and she loves sailing. According to Vanity Fair, she has been sharing her love for the latter with her kids, and has been teaching them the ropes this summer. "They are very much a family of sailors now. Kate has always been a competent sailor and William's pretty good too. They have enjoyed some wonderful time on the coast this summer sailing and showing the children how to steer and sail a boat. They love the water and the two eldest are good swimmers and had no qualms about jumping into the sea even if it was a bit fresh," a source told the outlet. "They are clearly a family that love being outdoors and in nature. It was lovely to see them playing so freely and not being bothered by anyone," the source added.
The two oldest Cambridge children have also taken up horseback riding, according to People magazine, following in Queen Elizabeth footsteps. Although Kate isn't a huge fan of the sport, she still supports Prince George and Princess Charlottes desire to ride, and she appreciates that they've come to love horses. It seems that Kate really wants her kids to stay active and enjoy nature, so this isn't really a surprise! 
Source: Read Full Article