Wendy Williams Ex-Husband Speaks Out After Requesting Monthly Payments Amid Her Financial Issues
Kevin Hunter, the former executive producer of 'The Wendy Williams Show', is defending his decision to ask his former wife to continue making regular payments to him despite her ongoing battle with Wells Fargo Bank.
AceShowbiz –Wendy Williams' ex-husband is defending himself. Kevin Hunter has publicly explained his decision to ask the former "The Wendy Williams Show" host monthly payments despite her ongoing financial problems.
Making use of his Instagram Story on Wednesday, November 30, the former spouse of the former TV daytime queen wrote, "Everybody wanna kno what's really goin on..the fact is I'm not being silent anymore."
"This don't have nothing to do with Wendy but has everything to do with the people trying to steal Hard earned money that I worked for and help build," Kevin explained. "I have a slew of experts to help substantiate all my claims and I'm tired of the bulls**t."
Kevin went on, "I didn't forfeit as much as I did for my son to go through this." Kevin, who was an executive producer on "The Wendy Williams Show", then concluded his message as saying, "Miss me with the double standard s**t as well ITS ON!!!!"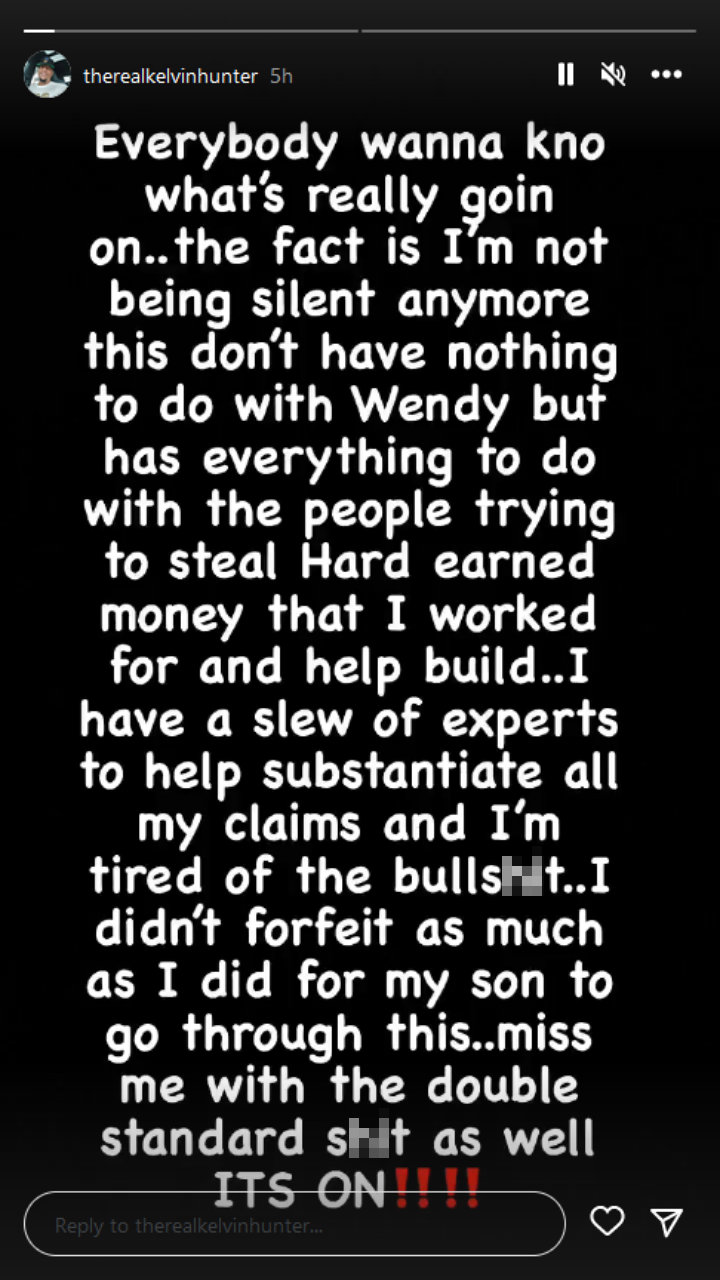 Kevin Hunter defended his decision to ask Wendy Williams for monthly payments despite her ongoing financial struggles.
Kevin's post came after his attempt to ask Wendy to continue making monthly payments to him met with backlash. In the shocking court filing obtained by The Sun, Kevin claimed his monthly payments which were made by Wendy as agreed to in their divorce, suddenly stopped in February of 2022.
Kevin asked that the court order Wendy's guardian "to make payments as contractually required under the MSA and Severance Agreement." Wendy was placed in a financial guardianship earlier this year after Wells Fargo Bank froze her accounts over concerns that she "was of unsound mind," and the bank suspected "financial exploitation, dementia, or undue influence."
In his motion, Kevin told the court that he one hundred percent depends on the payments, which were agreed to in their marital settlement agreement, to live. "I have fallen behind on most of my bills. I currently live in a community that requires payments to the homeowners association and I'm behind on that bill," he stated.
"If the homeowners association fees are not paid foreclosure will soon follow," Kevin said in his pleading to the court about the home he shares with his mistress and their love child. He continued, "My car insurance hasn't been paid as a result of not receiving monthly severance payments. I'm behind on credit card payments because I have no money since the severance payments were suspended. My life has been greatly affected since the plaintiff stopped making payments under our settlement agreement."
Kevin also claimed that he doesn't have health insurance and that he needs hip surgery which he can't afford without the insurance. As a result of non-treatment, he lives with daily pain. "The fact that I am unable to sustain my life and pay my bills in order is extremely emergent to me. I cannot pay my bills and sustain my day-to-day living," he stressed.
Wendy is currently set for a widely anticipated comeback with the upcoming release of her podcast called "The Wendy Williams Experience" with a premiere date having yet to be announced.
You can share this post!
Source: Read Full Article