We Know *Exactly* What Scott Disick Was Doing While Kourtney Kardashian Got Married to Travis Barker
ICYMI, Kourtney Kardashian and Travis Barker got legally married over the weekend in picturesque AF Santa Barbara. Now, if you too were wondering WWSD in this situation (I mean, we can't help it at this point), we're happy to report that we know the answer thanks to none other than Scott Disick himself.
On May 15, the reality TV star uploaded a bevy of family-friendly ~content~ onto his Instagram. Scott took to his Stories to share a series of super cute photos and videos of his three kids. There's a video of his and Kourt's youngest child Reign jumping into a backyard infinity pool and a photo of him lounging on a chair with the caption, "Living the dream," plus a clip of Penelope and Mason playing together with the commentary "Pushin P."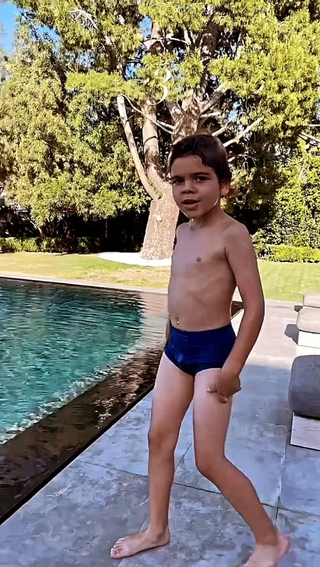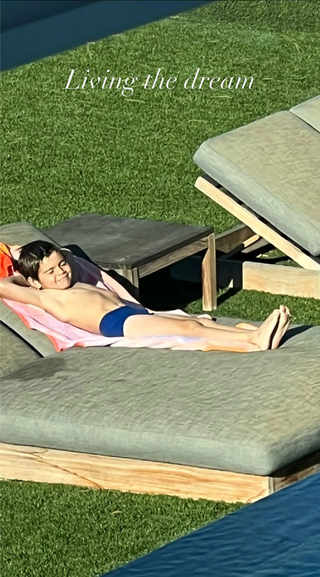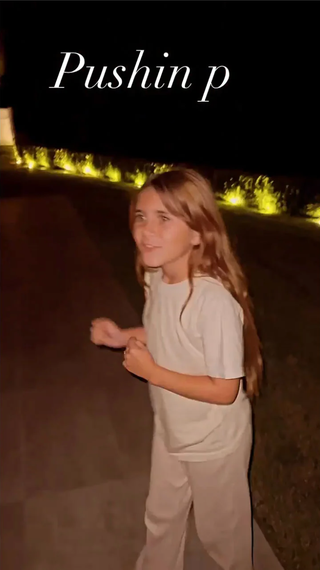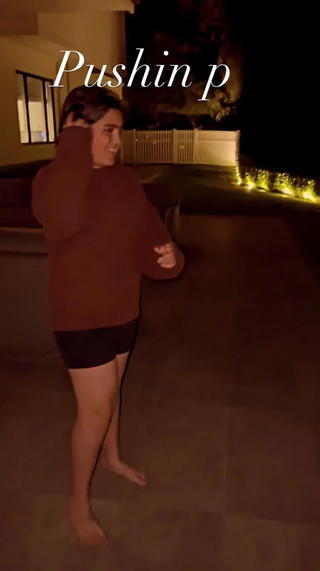 Scott further documented his day by uploading a static IG post with Reign the Monday after his ex's nuptials with the caption, "Just me and my boy."
https://www.instagram.com/p/Cdmbps0pE2B/?utm_source=ig_embed&utm_campaign=loading
A post shared by Scott Disick (@letthelordbewithyou)
Notably, the Talentless founder was in good company since, as it turns out, most of the Kardashian-Jenner family was also missing from Kourt's wedding ceremony—save for her grandmother Mary Jo Campbell, who reportedly attended as a witness. Luckily, Kourtney is in her "instantly upload everything to Instagram" era, and we got to see for ourselves how amazing the couple looked on Sunday.
https://www.instagram.com/p/CdokfyFPv_P/?utm_source=ig_embed&utm_campaign=loading
A post shared by Kourtney ❤️ (@kourtneykardash)
An insider who is allegedly close friends with the reality star told E! News that "Kourtney is over the moon and so excited to start this next chapter with Travis. They were excited about this day and madly in love."
Earlier this month, Scott and Kourtney's kids' reaction to their mother's engagement was the subject of a pretty heated segment on The Kardashians. In the middle of her celebratory dinner post-engagement, Kourt decided to FaceTime Penelope to tell her the news, and…let's just say it involved quite a few tears. (Change is hard, okay?)
"Penelope took it hard. I think it is a big change for her," Kourtney said during the May 5 episode. "Even though she loves Travis, I think she doesn't know what that means. Like is that taking me away? I think she just doesn't know what it means." The Poosh founder subsequently made it clear that she wasn't thrilled with her mom Kris's choice to purposefully not have her kids be at the engagement party so as to not make things awkward with Scott. "I do wish that my kids were here," Kourtney told the cameras in a confessional. "I think it would have made them feel more included in the decision and part of the surprise. I know that my mom made that decision and it probably wasn't her best."
https://www.instagram.com/p/CVJzKB2FGUq/?utm_source=ig_embed&utm_campaign=loading
A post shared by Kourtney ❤️ (@kourtneykardash)
In the same episode, Scott also revealed to Khloé that he would have preferred it if his kids didn't find out the engagement news via social media."They were upset. They didn't understand why they were watching TikToks of his kids there and they weren't there. Hopefully, they are invited to the wedding," he said. "If I got engaged 50 minutes away I would have just said, 'Someone just drive my kids here.' And Penelope would have been ecstatic. We were acting as if the place was 10 hours away." Oof, just another day in the life of the Kardashians!
Source: Read Full Article