Tommie Lee Sparks Debate With Her Interesting Take on Ne-Yo and Crystal Smiths Split
While commenting on a 'Cocktails with Queens' clip in which Vivica A. Fox shares uplifting message to Crystal, the 'Love and Hip Hop: Atlanta' alum seems to defend the singer for his infidelities.
AceShowbiz –Tommie Lee is taking a side on Ne-Yo and Crystal Smith's drama and she is not afraid to speak out her mind despite her controversial take. The reality TV star has sparked a debate as she appeared to defend the R&B singer for cheating on his wife.
Tommie weighed in on the matter when commenting on a "Cocktails with Queens" clip, in which Vivica A. Fox shared an uplifting message to Crystal. In the video posted on The Shade Room's Instagram account, the co-host said to Crystal, "You deserve better sweetheart. Move on. Go get counseling for yourself, young lady, so that you know that you deserve a man to treat you like a queen."
Vivica continued, "That's what you deserve. Stop staying for the fame, for the Instagram posts. You deserve a man to love for you so that when you laid down on the bed next to him, you don't feel that he's going to bring you a disease."
Tommie, however, thinks that a man deserves to be with other women despite being in a relationship with someone else. "So let me get this right because a man just like myself has one life to live we can't be with anybody else because we love somebody??? Ok woooow," she wrote in the comment, prompting backlash from other users.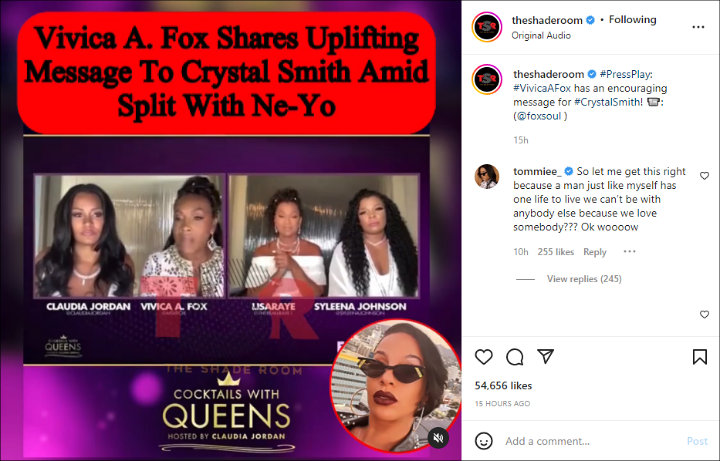 Tommie Lee weighed in on Ne-Yo and Crystal Smith's split.
One person told Tommie, "girl that's a married man that's cheating, shutup." Another replied to her, "you seriously need to grow up. It's sad at this point. Aren't you a grandmother?" A third simply remarked, "there's something wrong with you."
A fourth user said, "scrapp messed you up ain't it cuz that comment sounds very insane. Unless you're in an open marriage or just dating not exclusively hell naw you can't date outside of the relationship !!!!!" Someone else suggested that Tommie defended Ne-Yo because she relates to the mistress. "unless she is one of the woman crystal talking about," the said person wrote.
Another user thinks that people read Tommie's comment wrong because of the lack of punctuations. "she needed a comma she should've wrote so a man , just my myself, has one life to live. She was implying that she has one life and so do men. She should've worded it differently but a comma would've helped," the person explained.
Crystal exposed Ne-Yo for his alleged cheating habits on Saturday, July 30. "8 years. 8 years of lies and deception. 8 years of unknowingly sharing my life and my husband with numerous women who sell their bodies to him unprotected…every last one of them! To say I'm heartbroken and disgusted is a [sic] understatement," she wrote in a lengthy Instagram post.
Responding to the allegations, Ne-Yo said via Twitter that "my family and I will work through our challenges behind closed doors" for "the sake of our children." The "So Sick" crooner added, "Personal matters are not meant to be addressed and dissected in public forums. I simply ask that you please respect me and my family's privacy at this time."
Crystal later clapped back at a troll who accused her of clout chasing as she still wears her wedding band after announcing the split. "She still wearing the wedding bands lol. Clout chasing is one hell of a drug," the critic commented on Crystal's video. Catching wind of the comment, Crystal quickly clapped back at the troll as she replied, "And if I do decide to wear those 7carats .. I earned that."
Source: Read Full Article