The Truth About Cynthia Nixon And Andrew Cuomo
The following article includes allegations of sexual misconduct.
On August 10, when Andrew Cuomo announced that he was resigning as New York State governor — following a devastating attorney general investigation that found him to have sexually harassed 11 women — everybody (and we mean everybody) had some thoughts. And that is including "Sex and the City" star and political activist Cynthia Nixon. If you don't tend to follow New York politics all that closely, which makes sense if you're not from the Empire State, you may not be aware of the relationship between Nixon and Cuomo. But they have history. And it's not pretty.
"A man who hires and promotes known sexual harassers is a man who condones sexual harassment. We knew this about Cuomo years ago," Nixon wrote on Twitter following Cuomo's announcement. "It should've never required 11 different women to come forward to finally acknowledge how fundamentally unfit he is for the highest office in NYS."
So, what exactly is Nixon referring to here? Scroll on.
Cynthia Nixon once challenged Andrew Cuomo for governor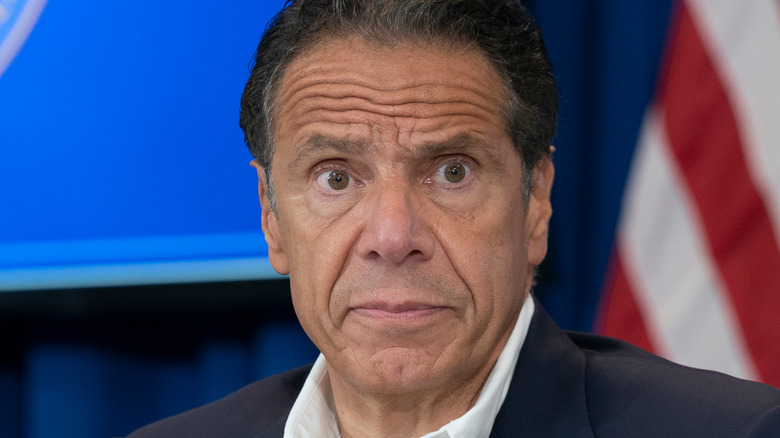 Cynthia Nixon's tweet responding to the Andrew Cuomo resignation announcement actually quote-tweeted an earlier tweet of hers from 2018. If you remember, that was the year Nixon challenged Cuomo in the primaries to become the Democratic party's nominee for New York State governor.
In Nixon's 2018 tweet, she wrote, "There is a clear pattern of Andrew Cuomo ignoring reports of sexual harassment against his top staff and allies. He even promoted men who he knew had a history of misconduct. New York can do much better than re-electing a hypocritical governor who ignores the victims." The tweet also included a campaign ad, in which clips from women's marches and #MeToo sloganeering were cut with videos of Cuomo explaining why he hired Sam Hoyt, a man known to have sexually harassed women — including a 19-year-old intern — in his office. In the clip, Cuomo called Hoyt's harassment "a mistake." Yeah, not a great look.
Andrew Cuomo didn't want to take Cynthia Nixon seriously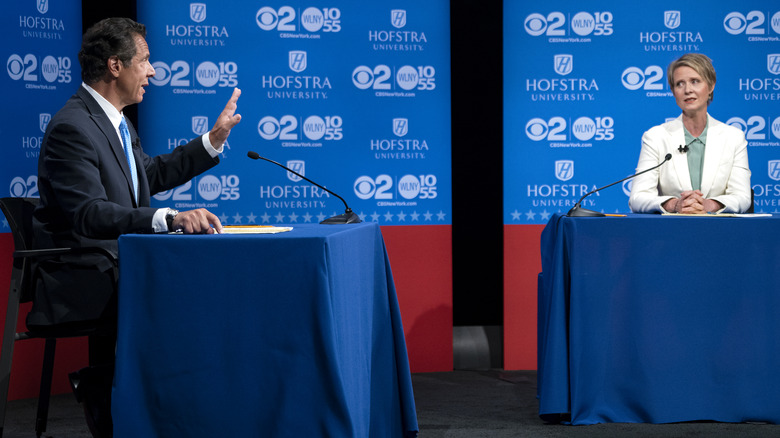 Though the revelations about Andrew Cuomo and his resignation had New Yorkers quipping on social media how they could have just voted for Cynthia Nixon and avoided all of this mess, the truth is that the primary race wasn't particularly close. And Cuomo was barely ready to even take her seriously as a challenger.
For one thing, Cuomo resisted having to debate Nixon one-on-one at all, per The Cut. (He hadn't participated in a one-on-one debate in 12 years.) And when he finally did agree, the Nixon campaign's press release said that he only agreed to do so as long as everything was on his terms. "Cuomo has agreed to participate in a debate hosted by WCBS, with the format and all of the details negotiated in advance, then presented to our campaign on a take-it-or-leave-it basis," the statement read on her website. "CBS management has acknowledged that the only way to get Governor Cuomo to show up is by giving him everything he wants."
Nixon may not have become the first woman governor of New York State — that honor goes to New York Lt. Gov. Kathy Hochul, who is succeeding Cuomo — but being vindicated at last has to feel good.
If you or anyone you know has been a victim of sexual assault, help is available. Visit the Rape, Abuse & Incest National Network website or contact RAINN's National Helpline at 1-800-656-HOPE (4673).
Source: Read Full Article