'The Pioneer Woman': Ree Drummond's Spicy Ginger Chili Noodles Recipe Is an Easy Trendy Dish
Ree Drummond makes a simple spicy ginger chili noodles recipe that is ready in minutes for a quick lunch or dinner. The Pioneer Woman star's flavorful dish is perfect for anyone who loves a meal that's not overly complicated.
Ree Drummond made the spicy ginger noodles recipe for her daughter
Drummond demonstrated how to make her spicy ginger chili noodles recipe on an episode of The Pioneer Woman. She made the dish as part of a lineup of recipes for her daughter Paige, who just graduated from college.
"Inspired by a viral cooking video, this ingenious way to prepare a dish of noodles is perfect for anyone who is short on time but enjoys Asian flavors," the recipe introduction explained on the Food Network website. "It's easy on the pocket and uses mostly pantry ingredients."
Drummond shared on her show, "I'm whipping up super trendy simple spicy ginger noodles. Paige absolutely loves any kind of noodles with Asian flavors, some spice, so I am going to make a really popular trendy, almost viral, noodle recipe with spicy peppers."
The Food Network host used kitchen shears to cut green onions into a bowl, then added minced ginger, garlic, and crushed red pepper flakes and stirred the ingredients together.
"The reason this is a great recipe for college grads is you can make it really fast," she explained. "And the flavor is out the window, through the roof, unbelievable."
She poured hot avocado oil over the mixture in the bowl. "It just hits those chilis and that garlic and it just turns into this amazing mixture," Drummond said.
"You can let this sit for 20 to 30 minutes and it just keeps getting stronger and stronger and spicier," she shared. "I'm gonna let it sit for three and then we'll move on with making the noodles."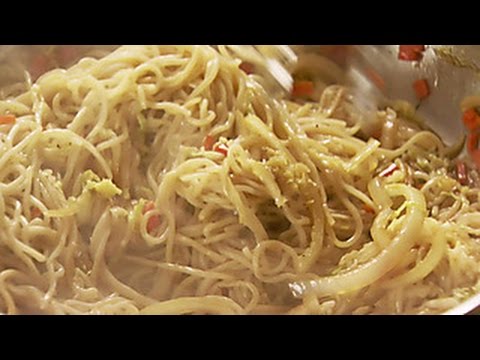 Drummond assembled the easy noodle bowl
Once the ingredients sat for a few minutes, she assembled the dish. "You can make this ahead of time and store it in a jar at room temperature for a few days if you don't want to use it all at once," she noted.
Drummond cooked linguine pasta in boiling water, drained the noodles, and added them to a bowl. "I really like long noodles when it comes to dishes like this," she explained. The Food Network host poured the spicy oil mixture over the noodles, added low-sodium soy sauce, toasted sesame oil, honey, and siracha, and tossed everything together while it was hot.
To serve, she placed the spicy noodles in a bowl and garnished the dish with sliced green onions.
The full recipe is available on the Food Network website.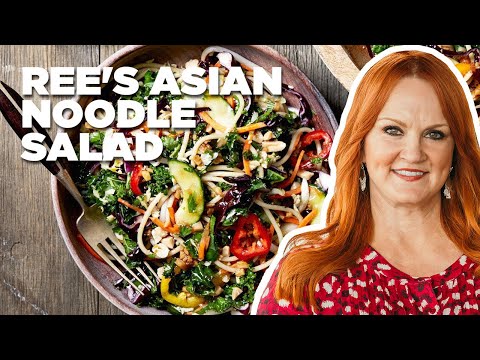 Ree Drummond's simple sesame noodles are even easier to make
Drummond has another easy noodle dish that takes just 10 minutes to pull together. She wrote about her simple sesame noodles recipe in a 2010 blog post on The Pioneer Woman website, calling the dish "utterly divine."
"Sometimes, simple is best. Often, simple is best. Most of the time, simple is best," she wrote. "There are so many wonderful, inherently delicious flavors in the most simple ingredients, and you don't always have to grind and saute and mix and beat and sear and combine thousands of ingredients to make something utterly delicious."
Drummond continued, "Sesame noodles fall under that umbrella. This is a very simple recipe for yummy sesame noodles. You can eat them by themselves, you can pair them with delicious roasted beef tenderloin. You can load them with red bell pepper, fresh cilantro, or cooked, chopped shrimp."
She added, "I love them just the way they are."
Drummond cooked thin spaghetti, drained it, and kept it warm while she made an easy sauce. She whisked together soy sauce, garlic, sugar, rice vinegar, sesame oil, hot chili oil, canola oil, and hot water.
The Food Network host placed the noodles in a bowl, poured the sauce on top, and tossed everything together until the pasta was well coated. Drummond garnished the dish with sliced green onions.
Source: Read Full Article