SZA's self-care includes diligently-charged crystals, astrologers & intention oils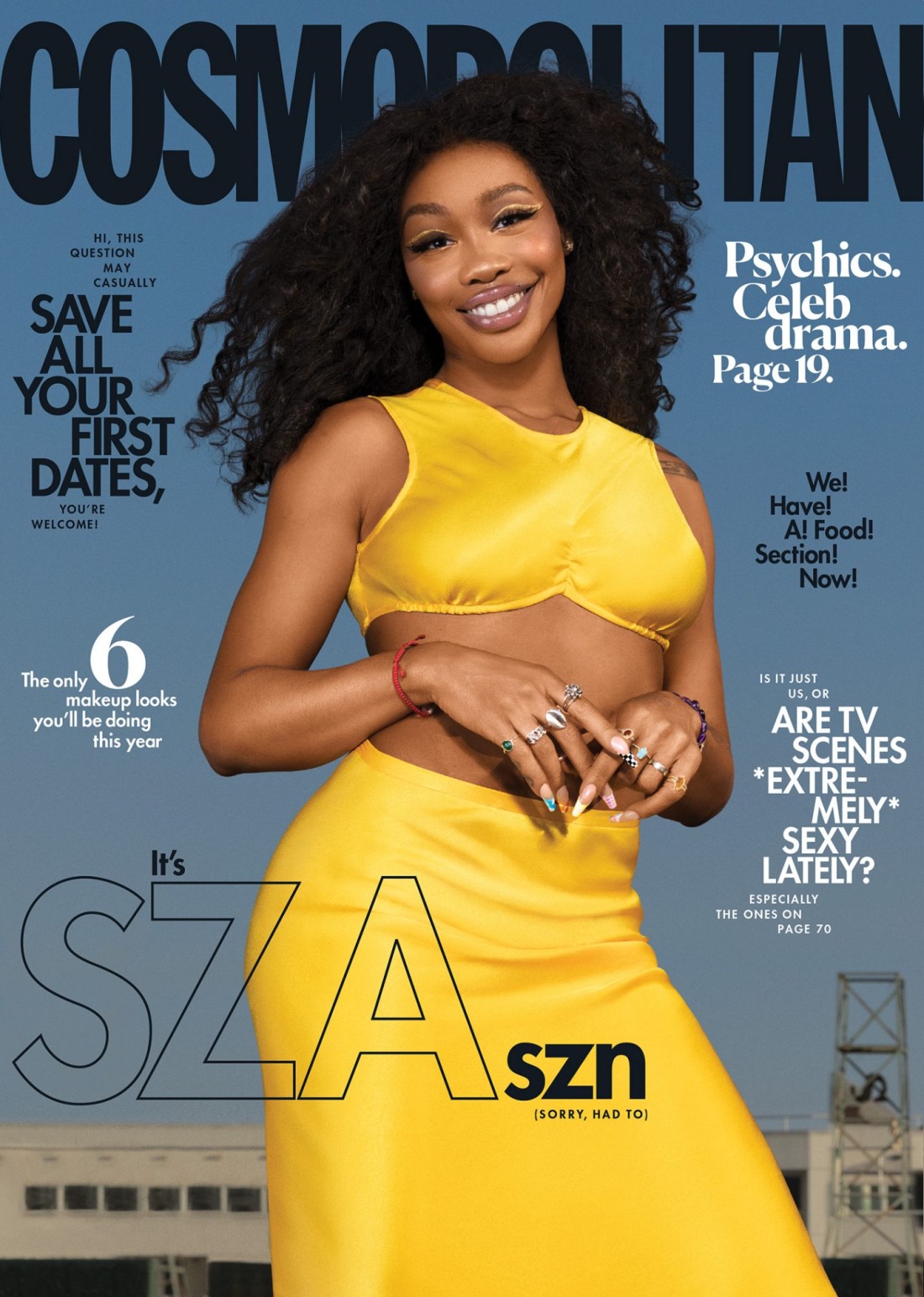 SZA has even more new music coming out, she promises. That was probably why Cosmopolitan gave her February cover, to coincide with her new album, which will come out at some point. SZA is pretty laid-back about it though – at the age of 30, the pandemic year has taught her to be more chill. Things will happen when they happen, that kind of thing. SZA chatted with Cosmo about her lack of Grammys, the pandemic, figuring out what to do during a pandemic, and a lot more. Some highlights:
Stand still: "I'm trying to learn how to stand still and be in it—and be okay with that. But I'm not meant to be still."

Almost four years since her album Ctrl. "The subject matter, I guess, ended up seeming like this highly curated journey through female adolescence and adulthood. That was not intentional. I was just talking my sh-t."

SZA is fine with her lack of Grammys: "I'm just a girl from the 'burbs. I never had dreams of being nominated for a Grammy. I thought I was going to be a gymnast and a f–king business accountant somewhere. Or working at Nike corporate or some sh-t in Portland. Who knows, but something that involved a power suit. So it's not a heavy burden. Once you've been nominated and lost, you're very much free because you're not concerned. I passed that threshold years ago—it's an old energy to me. Why would I be mad?"

New music: "Sometimes you just want to make something f–king awful just to rage against the system, but that's not where I'm at. In this space, I just want to do what I want without any pressure, without any hyper-conversation about it. This album is going to be the sh-t that made me feel something in my…here and in here," she continues, laying one hand on her heart and the other on her gut. "That's what's going to go on the album. I'm making all different types of sh-t every day from different places in my spirit."

Her self care routine: It involves crystals (which she diligently charges), DIY intention oils ("I mix rose-hip, hemp, jojoba, and evening primrose"), daily exercise, and a couple of go-to astrologers (her favorite: @iJaadee. "I love her," SZA says. "She's mean as hell—she's from Memphis—but she's a lovely girl and she keeps it funky.").

The pandemic year: "2020 definitely affected my ability to create and just the way I see everything. It forced me to restructure. I'm bored as f-ck when I'm not overwhelmed. Right now, more than ever, I'm just figuring it out—who I am and what I want that to be. Before, it was more about letting people know that I was a good writer and that I shouldn't be counted out. And now it's more, You have power; you can shape the world based on the things you genuinely care about."
[From Cosmopolitan]
I kind of enjoy when someone is unapologetic about being into stuff like crystals, astrologers, intention oils and such. It's a fine line for me – like, when a celebrity is really into crystals and talks about the importance of crystals, I roll my eyes. But just a simple mention of all of the sh-t they like – crystals, oils, astrology – in passing, it just seems like a fun quirk. Anyway, SZA sounds like the kind of person who enjoys being busy and does her best work on a deadline, so the past year was probably a major adjustment for her, but she's handling it with grace.
https://www.instagram.com/p/CJkQ0w9riW9/
A post shared by SZA (@sza)
Cover courtesy of Cosmo.
Source: Read Full Article