Suni Lee And JoJo Siwa Have Big News To Share
Suni Lee and JoJo Siwa have both been making headlines in 2021, though for different reasons — until now! Both young women are role models for their generation, and have a lot to be proud of.
Lee wowed the world with her gymnastics routines during the 2020 Tokyo Olympics, taking home a gold medal in the women's all-around final, according to The New York Times. "This is a crazy experience. Like it doesn't even feel like real life. I'm going to be like, 'Oh my gosh am I an Olympic gold medalist?! No!'" she told Today's Hoda Kotb after her medal win.
Meanwhile, YouTube star Siwa has been praised for coming out at LGBTQ, and expressing herself in a way that her fans can relate. "I never wanted [my coming out] to be a big deal. I've known since I was little. I have a lot that could have gone away because of my love life," Siwa told People magazine. The outlet points out that "never before has someone with such a young fan base identified publicly as LGBTQ."
So, what's the big news that both Lee and Siwa have to share? Read on to find out.
Suni Lee & JoJo Siwa are the first official cast members of 'Dancing With the Stars' Season 30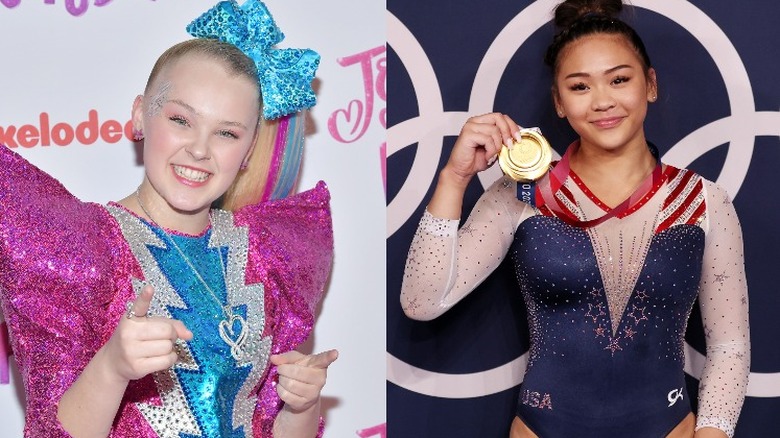 Suni Lee and JoJo Siwa are heading to the ballroom! According to Us Weekly, ABC has confirmed that the YouTube star and the gymnast are officially part of the "Dancing With the Stars" Season 30 cast! Both teens seem super excited for this awesome opportunity, even though it will undoubtedly be super challenging. ABC also reported that Siwa is set to make "DWTS" history as she will be partnered with a female pro dancer, marking the first same-sex duo to compete for the coveted Mirror Ball trophy.
"So excited to announce that I will be joining 'Dancing With the Stars' on their 30th season. I couldn't be more excited and [blessed] to be apart of this!! Stay tuned & see y'all on the dance floor," Lee captioned an Instagram video posted shortly after the news broke. "I am so excited to be a part of this year's 'Dancing With the Stars' Season 30 — and to be dancing with a girl, I think it's so cool," Siwa said in a video posted to the official "DWTS" Instagram page.
The rest of the Season 30 cast, which will be comprised of 13 additional stars, will be revealed during the September 8 episode of "Good Morning America," according to ABC News. The new season of "DWTS" will premiere on Monday, September 20.
Source: Read Full Article