Snow Day Star Ky Baldwin Shares 10 Fun Facts About Himself (Exclusive)
Ky Baldwin is opening up ahead of the premiere of his new movie musical Snow Day!
The 21-year-old singer and actor stars as Hal, a hopeless romantic pining for the girl of his dreams on one fateful snow day.
In the movie, siblings Hal (Baldwin) and Natalie Brandston (Michaela Russell) discover that anything is possible on a snow day when a surprise winter whiteout offers them the chance to break routines, take giant risks and follow their dreams.
Inspired to pursue his crush, Claire Bonner (Shelby Simmons), Hal enlists the help of his best friend, Lane, to help him express his feelings, and Natalie decides she must challenge her arch nemesis, the Snowplowman (Jerry Trainor), if she wants to pull off the task of creating a second snow day.
VIDEO: Watch the trailer here!
Before the movie's release, we got to know more about Ky Baldwin with 10 Fun Facts.
Learn more inside…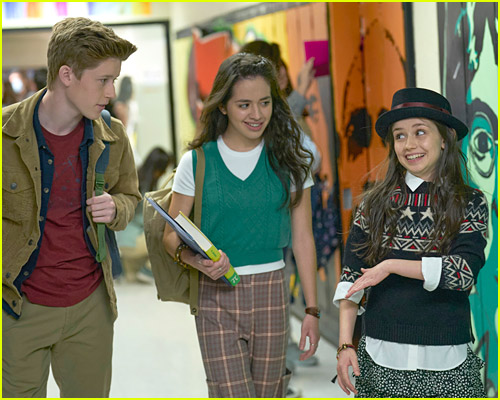 Ky Baldwin – 10 Fun Facts
1. I arrived at school once with no shoes on simply because I forgot.
2. My soccer juggling record is 1120, but my sister's is over 4500.
3. At age 11, I was a semi-finalist on Australia's Got Talent for tap dancing.
4. I know the "Supercalifragilisticexpialidocious" song and dance.
5. I would love to play Evan Hansen on Broadway one day.
6. I collect Funko Pops and have over 400 – mainly Marvel.
7. I think the opening theme music to TV Show Angel is some of the best music ever written.
8. I have a goal to visit all 50 states – so far have been to 26.
9. I cried of happiness when Rick Riordan's book "Heroes of Olympus: The Mark of Athena" was released (the only time I've cried of happiness).
10. I opened for singer Jessie J when I was 14.
Snow Day, a musical reimagining of the 2000 comedy of the same name, will premiere THIS Friday (December 16) on Nickelodeon and Paramount+!
Source: Read Full Article