See Lil Nas Xs Hilarious Response After Troll Alleging He Is Closeted Heterosexual
The 'Montero (Call Me By Your Name)' hitmaker, who came out as gay in the summer of 2019, laughs off a social media troll's allegation that he actually is heterosexual.
AceShowbiz –Lil Nas X has once again set record straight on his sexual orientation. The "Montero (Call Me By Your Name)" hitmaker has hilariously responded to a social media troll who accused him of being "closeted heterosexual."
On Tuesday, November 1, the 23-year-old hip-hop star turned to his Twitter account to clear things up after a user, who goes by the username @SeanTheTerrible, wrote, "Lil Nas is overly gay… I think he might be closeted heterosexual."
In response, Lil Nas X quote-retweeted the post and said, "i'm the first n***a to have to beat straight allegations." Not stopping there, the "Old Town Road" rapper also retweeted a tweet from @tommyasterisk who asked, "Fellas, is it straight to be gay?"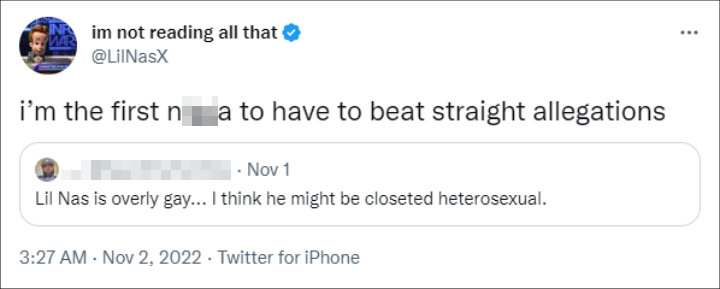 Lil Nas X responded to a Twitter user who alleged that he's a 'closeted heterosexual.'
Lil Nas X came out as gay in the summer of 2019. In an interview with GQ last November, the "Industry Baby" crooner, whose real name is Montero Lamar Hill, said that he believes more gay rappers would appear in the future.
"The whole landscape is very hyper-masculine. I do feel like this newer generation of rappers who are coming in, and the ones who are here, are going to have to reshape their thoughts," Lil Nas X told the publication. "Because change is happening."
The Grammy-winning musician continued, "There's going to be so many gay rappers. There's going to be more trans people in the industry and what not. Ten years from now, everything that I'm doing won't even seem like it was shocking."
Currently, Lil Nas X is single but he had previously dated back-up dancer Yai Ariza, who appeared in his "That's What I Want" music video, in September last year. The emcee first sparked relationship rumors with Yai a month prior when he said that he'd "found someone special." Then in late September that year, he announced that he's single again.
Following the brief romance, Lil Nas X unveiled that his failed romance with Yai "was the most serious relationship" he's ever had. The musician also shared that he started "dating [his] last boyfriend this past year," with whom he said he's "still on really good terms."
Source: Read Full Article