Saweetie Corrects Critics After Being Dragged in Colorism Allegation
The 'Icy Girl' raptress quickly sets things straight after her old chat with Too Short, in which he admitted that he only loves biracial women, resurfaced online.
AceShowbiz –Saweetie isn't going to let haters bring her down without a fight. Soon after finding herself being dragged online due to her old "colorist" conversation with rapper Too Short, the former girlfriend of Quavo has defended herself.
In the old IG Live footage, Short admitted that he only loves biracial women. "Mixed heritage women have always been my favorite," he told Saweetie in the clip. "I don't think I've ever fallen in love with a woman that wasn't mixed." Seemingly taken aback, Saweetie responded, "Really?!"
He continued explaining, "I feel that way about life too like biracial babies are… you can take the two ugliest people from different races and make a baby and that baby would just be beautiful! It happens all the time!"
Saweetie then appeared to laugh the conversation off before the video was cut short. After part of the chat resurfaced online over the weekend, people soon talked about how the "Icy Girl" hitmaker didn't do enough to defend black women. Saweetie herself is half black/half Filipino.
After catching wind of the backlash, Saweetie has denied that she partook in colorism. Taking to her Twitter page, she shared a full version of the clip in which she told Short, "I heard your comment about when two people come together to make a beautiful baby but black women are beautiful. Period. With their own look, you feel me?"
The Santa Clara-born star added in the caption, "Since @idkthreat blocked me make sure y'all post the whole clip. Black women are beautiful period!"
When a fan clapped back at the haters as tweeting, "They want Saweetie to fit their narrative so bad," Saweetie replied, "This shouldn't even be a conversation but thank you for having my back baby. I'm going back to my shoot Y'all have a Jesus blessed day."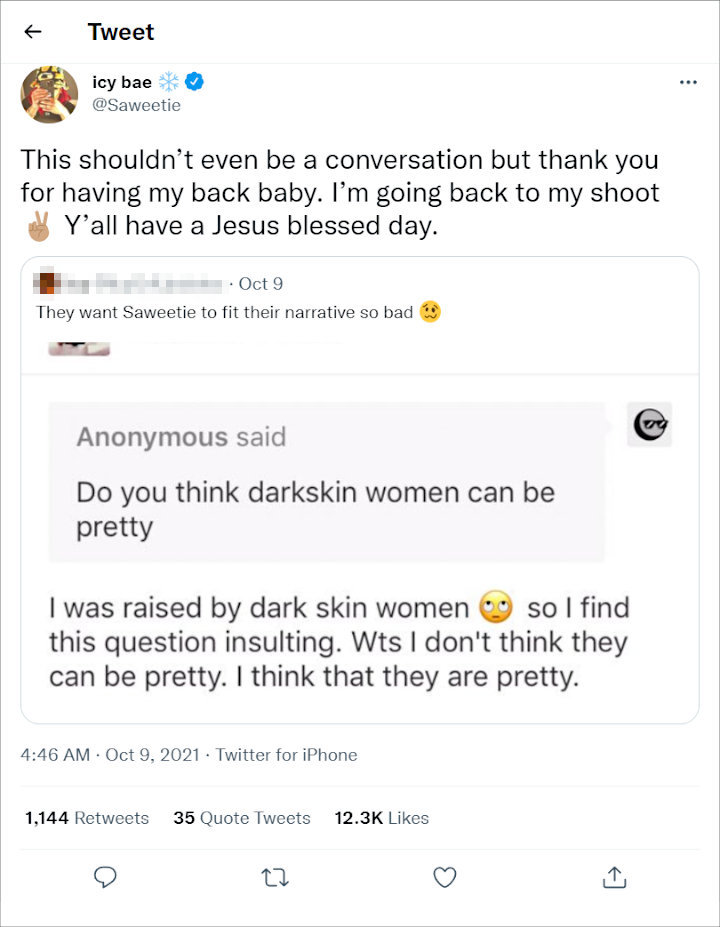 Saweetie replied to a fan who defended her amid colorism allegation.
Saweetie had previously addressed the issue when she was asked, "Do you think darkskin women can be pretty." She responded at the time, "I was raised by dark skin women so I find this question insulting. Wts I don't think they can be pretty. I think that they are pretty."
Source: Read Full Article