Rev. Jesse Jacksons Daughter Tweets Mission Accomplished After Father Falls at Protest
The political activist was rushed to the hospital after he suffered a fall and hit his head while helping student protesters at Howard University, a spokesman says.
AceShowbiz -Rev. Jesse Jackson has just had another trip to the hospital, more than two months after he was hospitalized with COVID-19. The civil rights leader was rushed to the hospital on Monday, November 1 after suffering a fall at Howard University.
The Rainbow PUSH Coalition said in a statement released on Monday night that Jackson was attending a town hall meeting with Howard University President A.I. Frederick and Howard students. The 80-year-old civil rights icon was returning to the university's Blackburn Center to update the student protesters on the progress made when he fell and cut his head.
He reportedly tried to carry on but both his team and the leaders pushed Jesse to seek medical attention. He was taken to Howard University Hospital where they ran tests, including a CT scan, which came back with normal results. The cut was also treated. Though the tests returned normal, hospital officials decided to keep him overnight for observation, a spokesperson for Rainbow PUSH said.
Jackson's daughter Santita Jackson has also taken to Twitter to give an update of her father's condition. "Family, he's resting comfortably & doing well," she assured her followers. "we thank u 4 ur prayers!"
She added that her father would go on fighting for people. "Fighting 4 u is what he'll always do. His goal is 2 ensure the well-being of @HowardU students," she stressed, before declaring with the hashtag "#MissionAccomplished."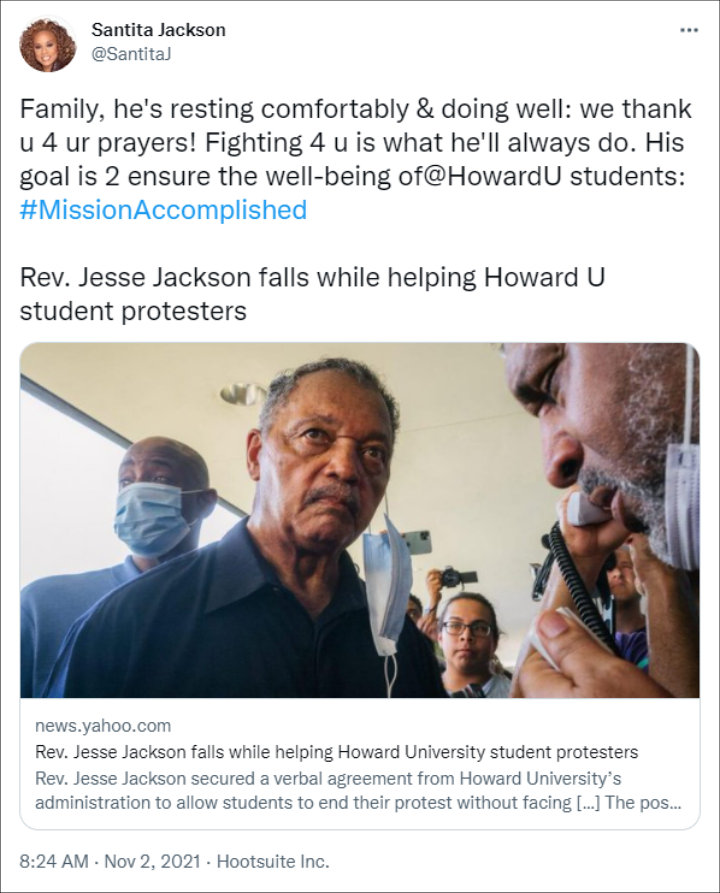 Rev. Jesse Jackson's daughter gave an update on his condition after he fell at Howard University.
The protest was reportedly regarding the students' complaints about rodents, flooding and mold in their resident halls. According to The Grio, Jackson helped secure a verbal agreement from Howard University's administration to allow students to end their protest without facing expulsion. The agreement also guarantees an investigation of every dorm room on campus containing hazardous mold.
Jackson and his wife Jacqueline were hospitalized with COVID in August. In late that month, the political activist was moved to a rehab facility where he received intensive occupational and physical therapy for his Parkinson's diagnosis. He was discharged from rehab on September 24.
Speaking to reporters, the former candidate for the Democratic presidential nomination, who had been vaccinated against COVID, thanked the jabs for saving his life. "The shot took me from death," he said about his bout of the deadly virus. "I never had a breathing issue, respiration. It couldn't take over me."
His wife, who was not vaccinated, was discharged from the hospital in early September.
Source: Read Full Article