Reusable silicone bags, blue light blocking glasses and no-tie shoelaces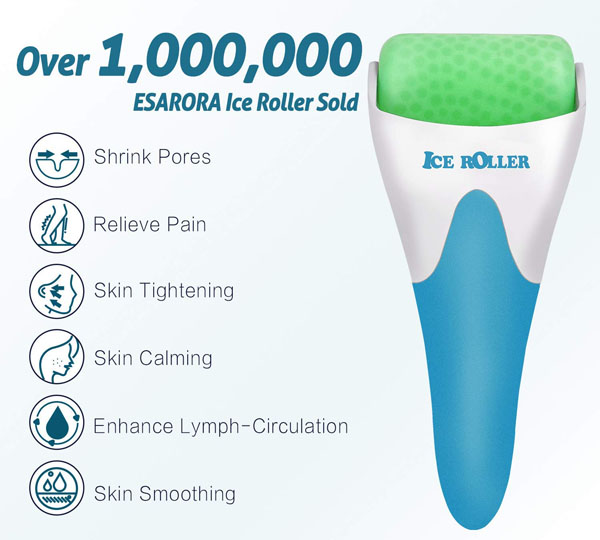 From CB: I got the placemats we featured in coffee gray and they're nice! They look much more expensive than they were and they seem durable. They were a little rolled up when I got them, but they smoothed out after a couple of days. I also finally got the ice roller! I love to use it on my face and neck. It feels great on sore muscles and I wish I'd bought it sooner. Here are some more things Hecate and I are looking at.
A set of reusable silicone bags which are microwave and dishwasher safe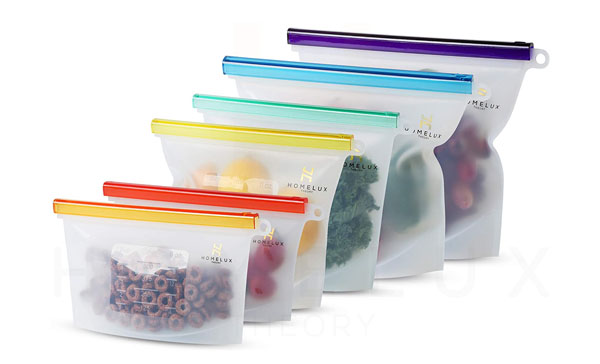 From CB: We've featured these type of bags before and I keep seeing them recently. You can use them to marinate meat, to store food of course, they protect against freezer burn, and they're great for traveling too. Plus they're so much better for the environment than plastic disposable bags. These bags by Homelux Theory are much more affordable than the name brand. You can get 6 bags, 2 each in sizes small, medium and large, for $25 or 7 bags for $30. They're microwave and dishwasher safe, unlike similar bags, and can stand up straight. These have over 4,000 ratings, 4.4 stars and a B on Fakespot. Reviewers love them and call them the best Ziploc replacement bag. "We love these. They stand up. They came in a great cloth storage bag. We took them camping when we first got them and they were perfect for storing snacks and for storing leftovers." "These bags are great. They're really heavy duty– they work in the freezer no problem and they're very thick, so I wouldn't worry about them ripping."
An alarm clock that tells the day of the week, time and date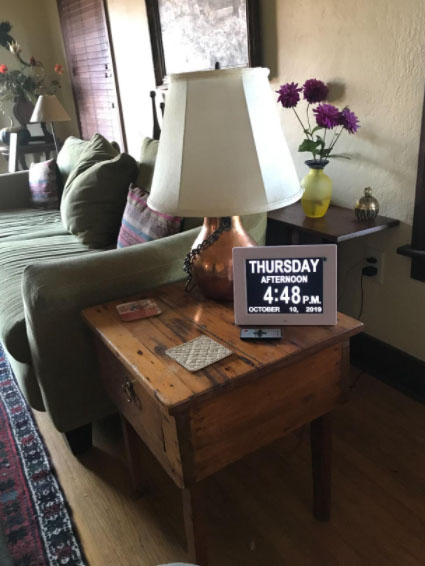 From CB: My mom and dad recently stayed with my uncle. My uncle had this clock and my mom kept raving about how awesome it was. My uncle even ordered it for her! The 8.5 by 6.75 inch alarm clock tells the day of the week, date and year along with the time and time of day. It has a large easy to read font and would be great for a retired person or someone who has memory issues. This clock has over 7,500 reviews, 4.8 stars and a B on Fakespot. It comes in black, silver and wood finishes and is under $50. Note that it does require you to plug it in and is not battery operated. People say it's a godsend for them and for their elderly relatives. "Since I'm retired, and live a sedate lifestyle, it's easy to lose track of the day and date. So, I really needed a clock that showed all this." "My 91 year old mother lives with us. She was ALWAYS asking me what day it was–or what time it was. As we get older, it is easy to lose track of the time and date, and for older people that can be frightening, especially since their memory is often slipping anyway. My mother absolutely LOVES this. "
Blue light blocking glasses that are protective and stylish


From CB: I like having my eyes protected when I'm inside with a mask on. I used to wear a shield but I don't get as many weird looks when I have my blueblocker glasses on. I loved the kind we recommended last year, and they really reduced eye strain, but those are no longer available and I gave them to my mom recently. I just bought these blue blocker glasses by TIJN, which come in different tortoiseshell patterns and color options. They're affordable and range from $14 for one pair to $17 for two. They have over 63,000 ratings, 4.4 stars and a B on Fakespot. Reviewers say they really work to reduce eye strain while using the computer and watching TV. "I now own 3 pairs of these in different colours. I absolutely love the quality and the price is fantastic. I've bought 2 other brands for blue light blocking and these are by far the better ones. They don't feel cheap and flimsy and I absolutely love how great everything looks with these glasses." "I've been wearing this for 3 days and have already felt a difference. My little headaches are gone. I can feel my eyes blinking—that's something I know I wasn't doing enough of before. And my eyes are already less red." Here's a link to an oversize version of these which are also really cute. Reviewers say these are already pretty big though.
A refrigerator deodorizer to eliminate odor and keep food fresher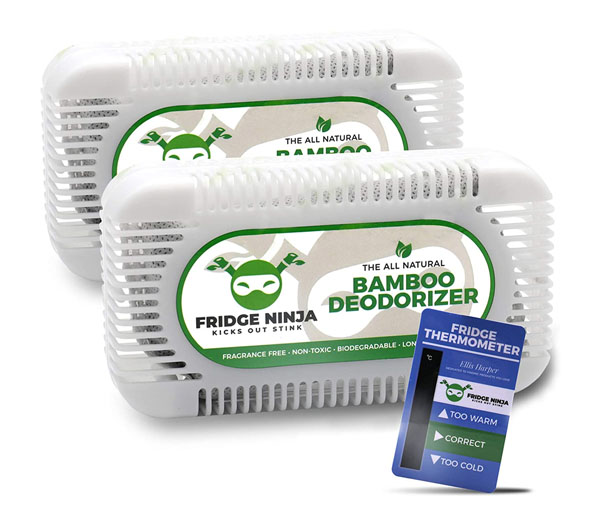 From CB: If you've ever had stinky leftovers or half an onion in your fridge you know that the smell and taste can get into your food. The Fridge Ninja is a little container with bamboo charcoal that helps freshen the air in your fridge. It's even said to keep your produce fresher for longer. You get two of these for $17. You can reuse the charcoal by just placing it outside in the sun. This listing has 4.4 stars, almost 2,500 ratings and a B on Fakespot. Reviewers write that these really work to clear bad smells from the refrigerator. "We had kimchi in our fridge. No matter what we tried to seal the container, the smell leaked out and other foods in the fridge absorbed the smell. Fruits tasted disgusting because of that. I purchased this and put one in my fridge – boom! Next day, just in one day, the odor is almost gone!" "Had an unfortunate incident with some spoiled takeout chicken curry— whew, man what a stench! A new full box of A&H baking soda (the box that's purposely designed as a fridge deodorizer) placed in the fridge for a week just didn't have much effect. A pair of these however and the smell was much improved in just a couple of days and it's completely gone after a week."
A reusable faceroller that helps eliminate shininess and oil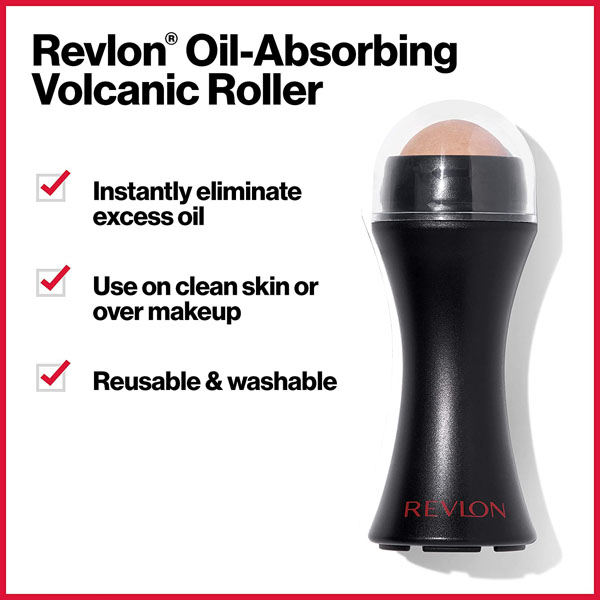 From Hecate: This little face roller fits in your purse and is reusable so you don't have worry about running out of blotting papers when you really need them. A friend of mine has this and loves it. The ball is made of volcanic stone for instant oil absorption. Even if you don't need an oil swipe, it works as a little facial massager for a midday pick-me up. The ball can be removed and washed so your roller is clean and ready to go. It's from Revlon and is under $10. Over 19,000 Amazon customers gave it 4.3 stars and Fakespot gave it a B. Customers were impressed with how much oil it absorbs, "it's nothing short of amazing! My face produces more oil than BP and this handy little gadget was able to suck it all up! I love the fact that it's washable and that I no longer have to use 3 oil blotting papers to soak up all my face's oil production." Another customer who'd seen it featured on TikTok said that while it's not perfect, it's close enough and gave her her confidence back, "Now, it doesn't pickup everything but it does make it more matte and gives you a natural look. I am so excited this product exists and I already feel more confident." Buy it quick, this product is really popular.
No tie shoelaces that fit both adult and children's shoes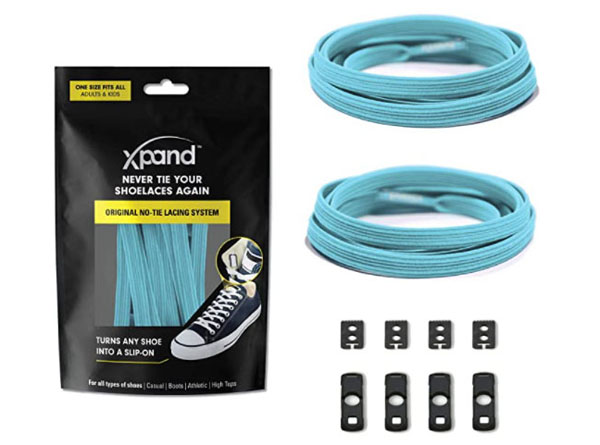 From Hecate: I don't want to say I'm lazy, but I am and so are my kids. We all know how to tie a shoelace, but it drives us bonkers to have to retie our shoes when they come undone. I found a fun solution! These are expandable, no-tie shoelaces that fit both adult and kid shoes. They come in a variety of colors and patterns like rainbow and camouflage. Instead of tying, they clip on the inside of the shoe, so you just have to slip your sneaks on – life simplified! All for only $10 a pair. These have over 16,500 ratings, 4.5 stars and an A on Fakespot. One customer said they were snug enough to use while working out, "Xpand keeps my laces snug without hurting my feet, thanks to the adjustability. Even when I'm using them to work out, I can still slip my shoes on and off easily!" Another said it made going through airport security a breeze, "They're fantastic for airport security or if you're just too lazy/busy to tie your shoes. Once you get them fitting how you want, you'll never have to worry about them again." One note, I guess it takes a few tries to get the fit just right so have patience in the beginning but once you hit that sweet spot, you're good to go!
Convenient stackable lunch boxes to help your family eat healthy


From Hecate: We used to get new lunch boxes and backpacks every year for school. Fortunately, our kids are more environmentally conscious than us and opt to reuse perfectly viable items from last year if they can. That's why I look for quality lunch items like these Bentgo boxes. My kids are both using their Bento boxes from two years ago because they are in great shape (obviously they got no use during the lockdown). This one works for kids or adults because it was designed for salads. But if you treat your kids with a little salty snack like chips or pretzels, it can hold those too. Whatever you decide to fill it with, you do not have to use plastic bags because this has so many different compartments. I really like the sauce/soup container. This is only $15 and Bento boxes are usually a lot more. There are seven colors to choose from and it's BPA free. Almost 24,000 folks rated it 4.7 stars with Fakespot rating it a B. Customers say everything is really sturdy, "Normally I cannot stand to eat with plastic but this fork is quite sturdy, and very good at stabbing at a salad. The compartment where the fork is kept also has room to put a napkin and/or happy note." You can get creative with what you pack in it, "I've used this Bento box for my own bilgogi lunches I made myself, for noodles, for pasta, for salad, for soup, for tacos…the bowl at the bottom is a really great size to pack in a lot of food." Many reviewers say the customer service is wonderful so if you have any problems at all, contact the company.
Thanks for reading and commenting on our affiliate post! If you make any purchases through these links we get a percentage and appreciate it.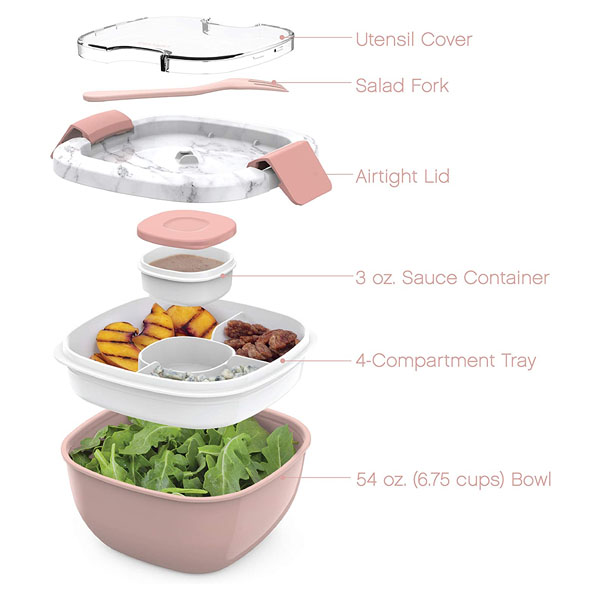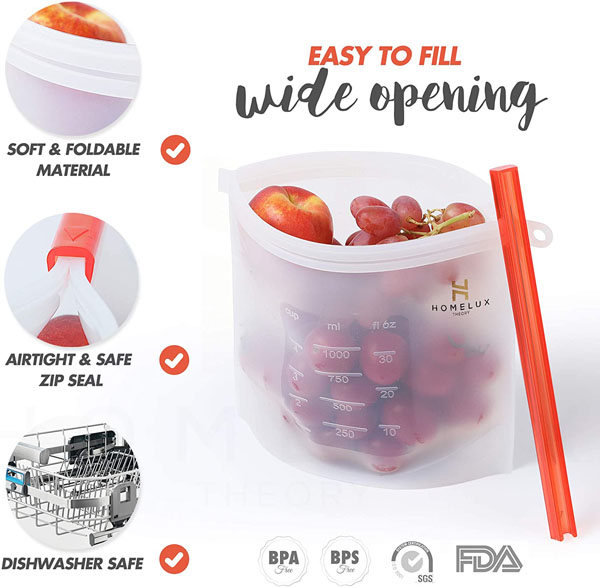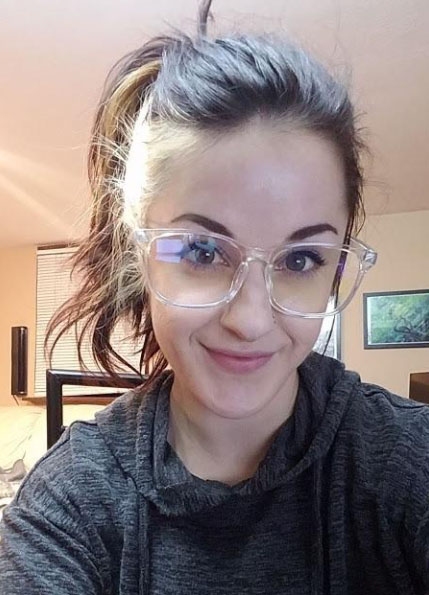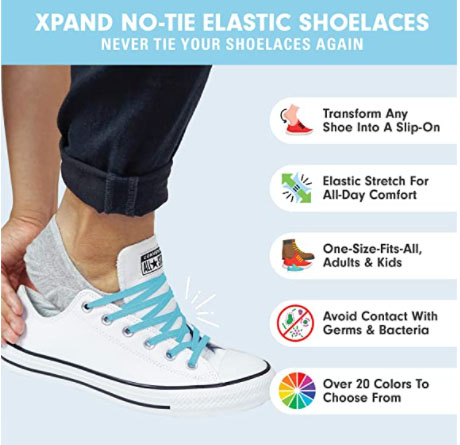 Source: Read Full Article