Prince Andrew Could Still Be In Hot Water With The FBI. Heres Why
The following article contains allegations of sexual assault and mentions of suicide.
Despite Prince Andrew's attempts to keep himself out of the public eye — which has seemingly also been aided by the royal family as well — it looks like the berth Andrew has been given is diminishing in size and scope. Andrew, who stepped back from his royal duties in 2019 after he denied knowing or ever meeting Virginia Roberts Giuffre, who has accused him of sexual assault when she was a minor. It quickly became apparent Andrew had indeed met her, a set-up allegedly orchestrated by alleged sex trafficker Jeffrey Epstein, per Vanity Fair. 
Though Andrew has been in something between hiding and a self-imposed exile for over two years, updates linked to Epstein's possible sex trafficking ring have thrust him into the spotlight again. In fact, it seems the FBI hasn't given up on speaking with the royal about his connection to Epstein, who died in 2019 by suicide in prison before his trial for charges of sex trafficking and conspiracy to engage in sex trafficking could begin. The FBI is also interested in talking to Prince Andrew about his possible involvement with regards to Epstein and his suspected criminal enterprises. But will it actually happen?
The FBI hasn't given up on speaking with Prince Andrew over the Jeffrey Epstein scandal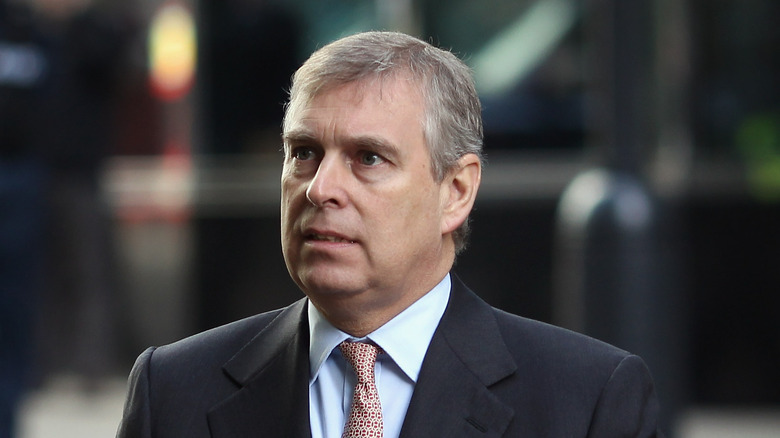 It seems the FBI is continuing their pursuit to speak to Prince Andrew over his involvement with Jeffrey Epstein, despite the royal's refusal to cooperate, per prosecutors — even though Andrew himself publicly said he would do so over nearly two years ago, per The New York Times. As The Daily Beast noted, this has been a regular tactic employed by Andrew in the interim, but a "fresh pressure" espoused by an unnamed source identified as "a U.S. government official" in an August 30 exclusive with The Sun could be a game-changer. 
Speaking with the tabloid, the insider stated "the U.S. and U.K. have a close, productive, and resilient law-enforcement and mutual legal assistance relationship," adding that both bodies are "in close contact on many active cases … and will continue to seek assistance in criminal matters as we provide similar assistance in return." The remarks were made in relation to a request put in by U.S. authorities over Prince Andrew's refusal to speak to the FBI, which, per The Sun, was filed with the U.K.'s Home Office in 2020.  Aside from attempting to evade speaking with U.S. federal authorities, Andrew seems to have also been doing the same with regards to a civil suit brought against him by Virginia Roberts Giuffre.
If you or anyone you know has been a victim of sexual assault, help is available. Visit the Rape, Abuse & Incest National Network website or contact RAINN's National Helpline at 1-800-656-HOPE (4673).
If you or anyone you know is having suicidal thoughts, please call the National Suicide Prevention Lifeline​ at​ 1-800-273-TALK (8255)​.

Source: Read Full Article