Joshua Bassett Details His Shocking Hospitalization After the Release of Olivia Rodrigo's "Driver's License"
In a candid interview with People, Joshua Bassett recounted the details about his emotional and physical well-being shortly after the release of his ex-girlfriend Olivia Rodrigo's massive hit "Driver's License" (which is speculated to be about their breakup) and his subsequent song "Lie Lie Lie" (which is also speculated to be about their breakup). And let's just say, things were looking very grim for the singer at one point.
Joshua said he kept feeling "worse and worse" after sleeping a total of 16 to 20 hours a day and not being able to stand for longer than 30 seconds. Things went from bad to scary when Joshua's own "Lie Lie Lie" was released and he had to urge a High School Musical: The Musical: The Series producer to take him to the hospital. "I felt my heart literally failing. I was like, 'This isn't just anxiety. This is bad,'" said the singer, who also mentioned doctors told him that had he not checked in within 12 hours, he might have died.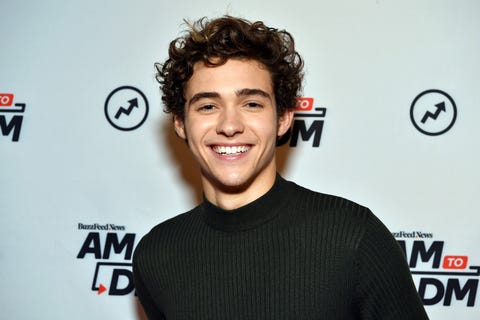 After nine days in the hospital, Joshua was allowed to leave, but not without continuing to experience depression, stress, and panic attacks. Despite this, he said the musical projects he put out were no indication of what he actually felt on a daily basis IRL. "People had this mentality like, 'Oh, you were going through so much, so what you were making must have been so great. While yes, I was able to make something out of my pain, a lot of times it was just me grieving and going through all these different feelings," he said.
Despite his intentional delay in releasing "Crisis," "Secret" and "Set Me Free" in December 2021 to avoid speculation they were connected to Olivia, he ended up experiencing a week that felt "worse than the year combined." With the help of therapy, yoga, and meditations, the singer said he is on a path to recovery. He reflected: "My therapist, she loves the song 'Set Me Free,' but every time she hears it she goes, 'Only you can set yourself free. I'm like, 'Yeah, yeah, yeah, I get it. I get it.' But I do understand now that it really is me who can give myself permission to move on. Ultimately, I was the one who had to set myself free."
Joshua was not the only one who had to come to terms with the intense scrutiny about his former relationship. Olivia herself has commented on adjusting to the mass fan interest: "I just remember [everyone being] so weird and speculative about stuff they had no idea about…I really resent that narrative that was being tossed around," she told Variety last March.
In a continued effort to regain his own footing, Joshua has involved himself in projects meaningful to him. Case in point? His new Disney+ musical film (which happens to be directed by HSM:TM:TS showrunner Tim Federle). Better Nate Than Ever centers on a coming-of-age story of a boy who wants to pursue his Broadway dreams in New York City. Joshua also released a new song called "Doppelgänger."
As for how Joshua wants to think about the past in relation to his future? He told People: "In this last year a lot of my biggest fears came true. But in that, I found that I'll always be OK, if not better off."
Source: Read Full Article