Jennifer Lopez Shows Fans Her Daily Morning Practice
Jennifer Lopez uses her mornings to focus on replenishing herself and getting ready for the day ahead. Here's what J.Lo shared with fans about her daily morning practice.
Jennifer Lopez tries to stay positive
Lopez tries to maintain a positive outlook on her life and career. She stays away from negativity because she doesn't want to hamper her success. She believes a positive outlook will help her live her best life.
Lopez extends her positive practice to her music. In her book True Love, she says she doesn't record negative songs. Before Lopez released her first studio album (titled "On the 6"), she received advice from her ex-boyfriend Sean "Diddy" Combs. He told her to be mindful of what she says in her albums because words can define who she is as an artist. He warned Lopez to think through the lyrics in each of her songs.
Lopez says music is "powerful." She believes music is released into the universe and "takes on an energy." She also says music has the power to "become part of your story," so she records songs that aren't negative because she doesn't want that for her life.
Jennifer Lopez starts the day by 'feeding' her mind and soul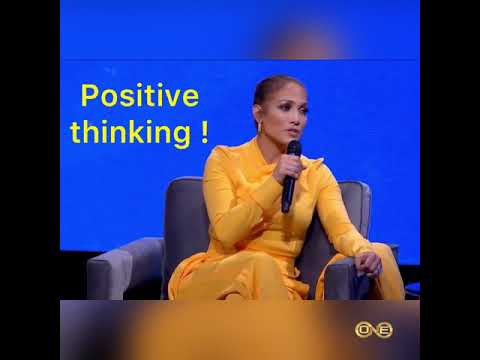 Lopez focuses on skincare and daily affirmations each morning. During an Instagram video, she tells fans that she keeps a box of affirmation cards outside her shower. The card she pulled out for that day was a quote from Hellen Keller that encouraged others to resolve to be happy. In the quote, Keller says, "Your success and happiness lies in you. Resolve to keep happy, and your joy you shall form an invincible host against difficulties."
 Lopez says that quote resonates with her. "I'm going to resolve to keep happy, no matter what," she says in her Instagram video. "It's a promise you make to yourself." She went on to say her success and happiness lie within her.
Lopez says she likes to start her day by feeding her mind and her soul first with an affirmation. "No looking at the phone yet," she adds. She says it's important to set up her day "with the right intentions and the right thoughts and being positive."
Jennifer Lopez's skincare routine
Lopez follows up her affirmations with her skincare routine. When it comes to skincare, she makes sure to leave a tube of her JLo face wash in the shower. She says this way she doesn't have to worry about having to get out of the shower when she wants to wash her face.
After washing her face, she puts on her JLo Beauty serum and then sunscreen. She calls her serum "vitamins for the face." She likes to think of it as taking her vitamins first thing in the morning. Lopez says sunscreen, which has been part of her skincare routine since she was in her late teens, is very important. "Your mom puts it on you when you're a baby to protect you from the sun, and I continued that on into adulthood, and it was a gamechanger," says Lopez.
RELATED: Jennifer Lopez Workout Routine
Follow Sheiresa Ngo on Twitter.
Source: Read Full Article