Ina Garten and Trisha Yearwood's Different Tricks to Making 5-Star Frittatas
It's frittata time. Take a closer look at Barefoot Contessa Ina Garten's frittata and Trisha Yearwood's frittata. The Food Network stars have various frittata recipes and they each have their own methods. So what are the celebrity chefs' tricks to a great frittata? They follow many of the same steps but Garten and Yearwood's frittata recipes are different in two big ways.
Ina Garten's frittata recipe calls for flour and baking powder and Trisha Yearwood's doesn't
On the ingredient list for Garten's Potato Basil Frittata is, according to Food Network, flour and baking powder. As the Barefoot Contessa explained on her cooking show, the flour provides a "little substance" and the baking powder makes the frittata rise. However, they're not necessary to make a delicious frittata as Yearwood proves with her Asparagus Frittata. Nowhere on her ingredient list is baking powder or flour. 
Trisha Yearwood's frittata is cooked in a cast-iron skillet while Ina Garten's frittata is baked in an omelet pan
Yearwood's frittata recipe calls for the use of a cast-iron skillet. The Food Network star mixes up her frittata before pouring the asparagus and egg mixture into the skillet. It doesn't sound like anything particularly groundbreaking but there's genius in its simplicity. Yearwood doesn't have to dirty other pans or worry about the skillet getting damaged in the oven.
The country music star cooks the vegetables in the skillet on the stove. Then, after whisking together the egg mixture, she combines everything in the skillet. From there Yearwood's frittata is broiled for 10 minutes before it's ready to eat. So, not only does she have a homemade frittata in 25 minutes, but cleaning up is easier too. As for the Barefoot Contessa, her recipe calls for an ovenproof omelet pan.
Both frittata recipes have 5 stars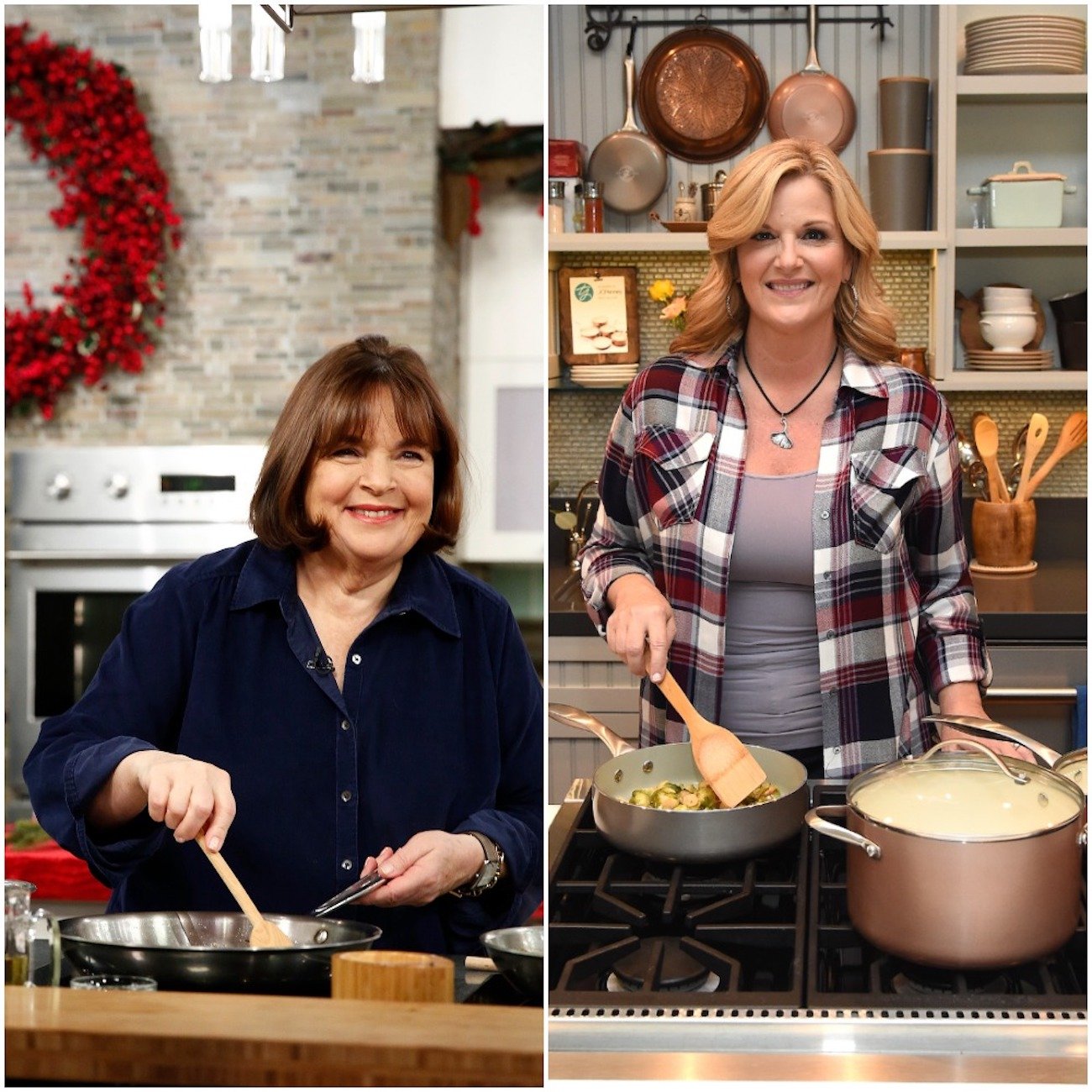 Despite having slightly different approaches to the frittata-making process Garten and Yearwood's recipes are both popular. At the time of publication, Garten's Potato Basil Frittata and Yearwood's Asparagus Frittata average five stars on Food Network's website.
Garten's frittata recipe, which is a great dish for feeding a crowd, has been reviewed 85 times while Yearwood's frittata recipe has only 21 reviews. Nevertheless, those who have made frittatas at home love them. One reviewer called Yearwood's frittata "delicious" and "easy to fix for a quick meal but much fancier than scrambled eggs." 
Others also loved how fast it can be on the table — Yearwood's frittata takes 25 minutes to make — calling it an "elegant" take on a "quick 'n easy weeknight dinner."The only complaint reviewers seemed to have about Yearwood's frittata? That it stuck to the cast-iron skillet.
As for Garten's frittata, many reviewers commented on how no matter how many times they make the dish it "always comes out perfectly." That could be thanks to Garten's lengthy recipe-testing process. Other reviewers noted just how "light and fluffy and heavenly" Garten's frittata turned out to be. "I've never made a frittata with flour and baking powder, but it works," one person wrote, saying that it does indeed make the frittata a "little lighter."
Source: Read Full Article