Iggy Azalea Unfollows Tory Lanez After Hes Found Guilty of Shooting Megan Thee Stallion
Before the Canadian rapper was convicted of all felony charges in the July 2020 shooting incident, the 'Black Widow' songstress was romantically linked to him and working together with him on her album.
AceShowbiz –Iggy Azalea is apparently cutting ties with Tory Lanez. The "Black Widow" songstress was caught hitting the unfollow button on the Canadian rapper's social media page only a few days after he was found guilty of shooting Megan Thee Stallion.
On Tuesday, January 10, eagle-eyed fans spotted the 32-year-old Australian singer unfollowed the "Say It" spitter on Instagram as they couldn't find his name on her following list. However, the 30-year-old emcee, born Daystar Peterson, is still following her on the photo-sharing platform.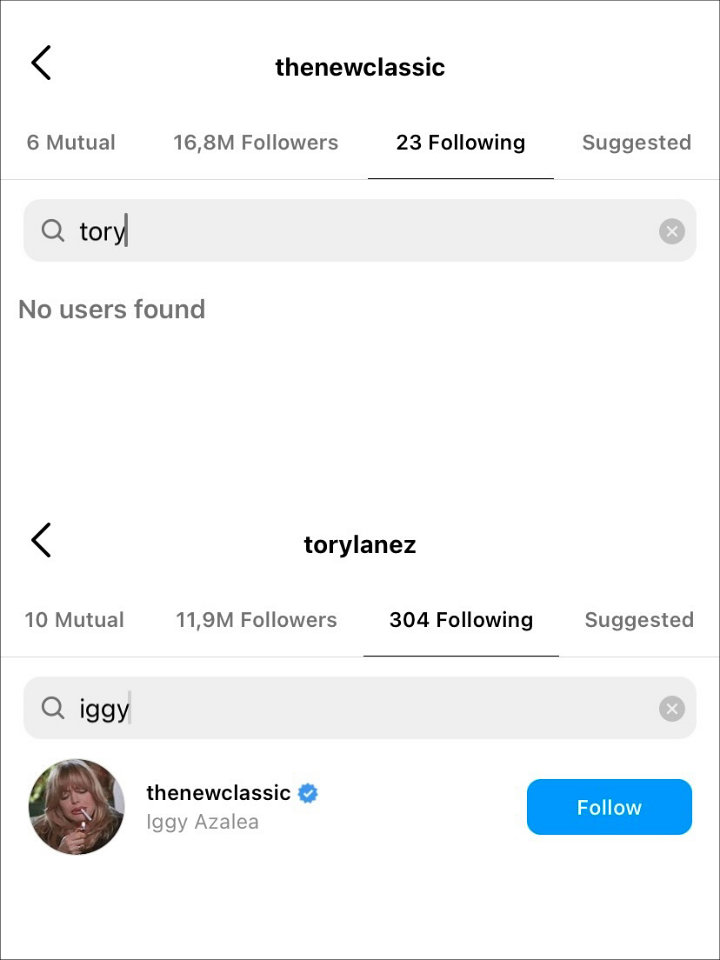 Iggy Azalea has unfollowed Tory Lanez on Instagram, while she's still on his following list.
Iggy's subtle social media gesture came after Tory, with whom she was once rumored to be in a relationship, was convicted in the shooting case involving Megan. On December 23, 2022, a grand jury found Tory, who pleaded not guilty to all counts, guilty of all three felony charges levied against him. A sentencing hearing has been rescheduled from January 27 to February 28.
In June last year, Iggy and Tory sparked rumors that they're an item after they were caught hanging out together. In an image that was posted on Gossip of the City's Twitter account, the two seemed to be deep in conversation while sitting together on a couch with the "Fancy" hitmaker resting her hand on his knee.
Then in July 2022, Tory shared that he enjoyed her cooking. Fueling further the dating rumors, Iggy sent Tory a special gift to celebrate his new album "Sorry 4 What". Tory even dubbed her "baby girl." Shortly after, the rumored couple was spotted dancing together in a nightclub.
In October of that year, Tory confirmed that he's executive producing Iggy's new album. "The first FEMALE URBAN ALBUM i will EXECUTIVE PRODUCE will be @IGGYAZALEA Next Album !!! [fire emoji]," he tweeted at the time.
After the announcement was met with backlash, Iggy defended her decision to place her music in Tory's hands. "You're all very welcome to speak your opinion freely about me…," she wrote via Twitter. "just as long as we all have an understanding: you are having a monologue & not a discussion with me – because (respectfully) my bills remain paid without your two cents." She even praised Tory for having "great ears."
You can share this post!
Source: Read Full Article