ICYMI, Fans Think Olivia Wilde and Harry Styles Are Secretly Engaged ? Here's What We Know
Olivia Wilde and Harry Styles have been v busy lately. The "Golden" singer just headlined the first night of Coachella (NBD), and the House alum is in the midst of directing Harry's upcoming film project Don't Worry Darling. TL;DR: They've got a lot on their hands, including what *some* suspect might be an engagement 💍💍💍.
If you're wondering just how we got here (bc same), here's everything you need to know about the possible (?!?!) Olivia and Harry engagement.
When Did the Engagement Rumors Heat Up?
Good Q! To that we say:
The rumors started swirling on April 19, days after Harry's Coachella performance thanks to one of Deuxmoi's Q&A answers.
Wait, Deuxmoi?
Deuxmoi is a celebrity gossip account on Instagram that posts a medley of blind items: revelatory details about celebrities (sans their identities), full stories with all of the relevant details but no original source, and, sometimes, a mix of both. Though the account's bio states that it "does not claim any information published is based in fact," maaaaany of the nuggets of celebrity gossip are, in fact, true. (Think: Kim and Kanye's split, details about the would-be music video Blake Lively was directing for Taylor Swift, and even Olivia and Harry beginning to date 👀.)
Deuxmoi also often takes to the platform to do a Q&A-type series with followers who are interested in particular questions—hence how this latest iteration of engagement rumors heated up. And because Harry and Olivia were at the top of everyone's mind post-Coachella, one person took the opportunity to ask about the existence of a 💍.
So What Was Revealed?
Well, when the follower asked Deuxmoi whether they wondered if "H and O are really engaged," the account had this to say: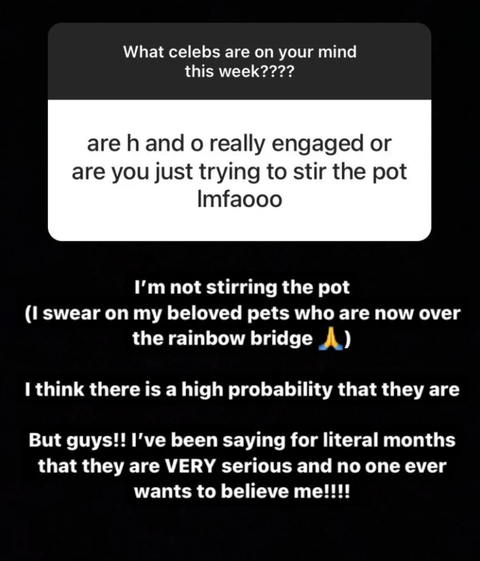 "I think there is a high probability that they are," reads the response. "I've been saying for literal months that they are VERY serious and no one ever wants to believe me." Well, it sounds like people are finally listening, because they certainly had thoughtssss after the Q&A was posted:
Harry Styles and Olivia Wilde are engaged pic.twitter.com/omEs0lO0Uk
harry styles and olivia wilde being engaged?! Alexa play Loved You First
if harry and olivia are engaged i will evaporate bc i want him to be happy but i also need him to be single lmfao
Is This the First Time We're Hearing About This Engagement Rumor?
Murmurs about Harry and Olivia's potential engagement initially surfaced when TikTok video by @diorh4rry went viral in January 2021. The user shared a the cover story of an OK! magazine issue, where the allegedly-engaged couple were set to plan the "wedding of the year."
it's all a stunt it's all a stunt it's all a stunt #harry #styles #harrystyles #SwitchTheChobaniFlip #foryoupage #foryou #fyp
However, the video's quick circulation only caused confusion and failed to answer any lingering engagement Qs about the couple. Another story by the same tabloid published in November 2021 further complicated the issue when it claimed some of Harry's fans overheard him referring to Olivia as his fiancée while out in public, and a source claimed "Harry's totally devoted to Olivia, so it's no accident he let that slip. There's a part of him that really wants the world to know they're so serious." Is your head also spinning?!
Have Either Olivia or Harry Said Anything?

Sadly, the couple has kept things pretty much under wraps, and no rumors have been addressed. But who knows! Maybe they will soon.
Where Do Harry and Olivia Stand Now?
The couple first sparked romance rumors in January 2021 when they were seen holding hands at a wedding, and the internet naturally freaked out. Their whirlwind romance came after the singer and actress/director came together to make the movie Don't Worry Darling, which is set to premiere in September 2022.
Off the bat, the two seemed to be a good match for each other, with a source telling Us Weekly that "Harry and Olivia had chemistry almost instantaneously on set…It was only a matter of time before they got together." In-ter-es-ting!
https://www.instagram.com/p/CFBNFA0n4-i/?utm_source=ig_embed&utm_campaign=loading
A post shared by Olivia Wilde (@oliviawilde)
Fast-forward to December 2021 when Olivia finally addressed their romance in a Vogue interview and admitted to the outlet, "I think what you realize is that when you're really happy, it doesn't matter what strangers think about you. All that matters to you is what's real, and what you love, and who you love."
Since then, the couple has been doing all sorts of couple-y things together. Case in point? Supporting each other's projects! Celebrating birthdays! Going to Coachella together! Oh, and Harry's new single (and legit the most catchy song on TikTok atm) "As It Was" includes a subtle nod to his girlfriend, since the lyrics mention "two kids." (Olivia shares two children with her ex, Jason Sudeikis.) Sooooo basically, no one would be shocked if the "Watermelon Sugar" actually did make the recent call to put a ring on it.
Welp! That's pretty much all we know for now, but we'll definitely keep you in the loop should any news be confirmed. In the meantime, enjoy this pic of Harry at Coachella ❤️.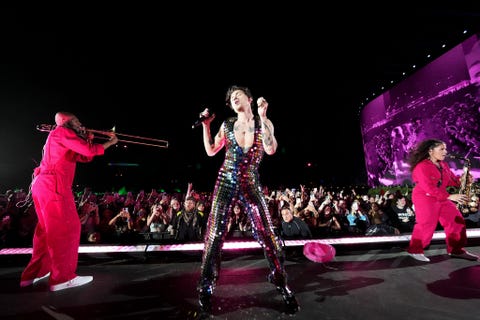 Source: Read Full Article