Popular YouTuber-turned-boxer Jake Paul is always up for some controversy. The former Disney Channel actor — who infamously got ousted from his role on "Bizaardvark" allegedly for turning his neighborhood into a "war zone" with "disruptive video shoots, OTT parties, and dangerous stunts" filmed for his YouTube channel, per Metro, — has always been a fan of dramatics and isn't shy about raising hell for publicity.
Just like his brother Logan Paul — who recently parlayed his controversial entertainer status into a WrestleMania appearance (and appropriately got dropped by Kevin Owens) — Jake made the transition from viral sensation to in-ring competitor. What people may not realize, however, is that both Paul brothers are no slouches, as the two both come from legitimate amateur wrestling backgrounds — with Logan even qualifying for the "state-level Ohio High School Athletic Association (OHSAA) 2013 Division I Wrestling Individual Championships," per Sportskeeda.
And although Jake does not have the same amateur wrestling credentials as Logan, he makes up for it in his rigorous training routine for his boxing matches, as evidenced by his victories over former Olympian and world champion Ben Askren as well as former UFC stalwart Tyron Woodley. It also helps that Jake has a decent height and reach advantage over the majority of his opponents. With that being said, how tall is Jake Paul exactly? Read on to find out.
Jake Paul is over 6 feet tall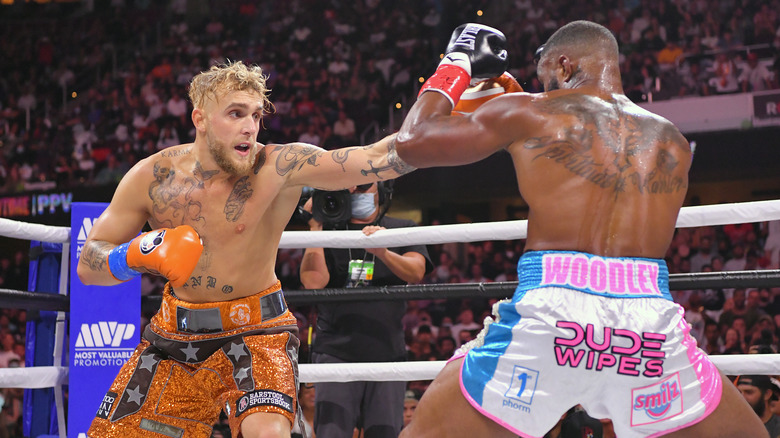 According to BoxRec, "The Problem Child" Jake Paul stands at a height of 6 foot 1 inches (roughly 185 centimeters) and has a reach of 76 inches — a measurable advantage over his previous opponents.
For reference, Paul's most recent opponent, Tyron Woodley (whom Paul defeated via split decision) stands at 5 foot 9 inches and has a reach of 74 inches, according to BoxRec. UFC Stats has Ben Askren (whom Paul knocked out in less than two minutes) listed at 5 foot 11 inches with a 73 inch reach, while BoxRec has former NBA star Nate Robinson (whom Paul, again, knocked out in less than two minutes) as 5 foot 9 inches with a 70 inch reach. YouTuber Ali Eson Gib (yet another knockout served up by Paul), better known as AnEsonGib, also stands at 5 foot 9 inches, per BoxRec.
As it stands, Paul's height and reach certainly handed him an advantage in dealing with opponents who can't cover as much distance as he can. Interestingly enough, all four of Paul's boxing matches (which were all Ws) were against opponents in their debuts, which makes one wonder how Paul would fare against a more experienced boxer.
Even in the boxing ring, Jake Paul can't escape controversy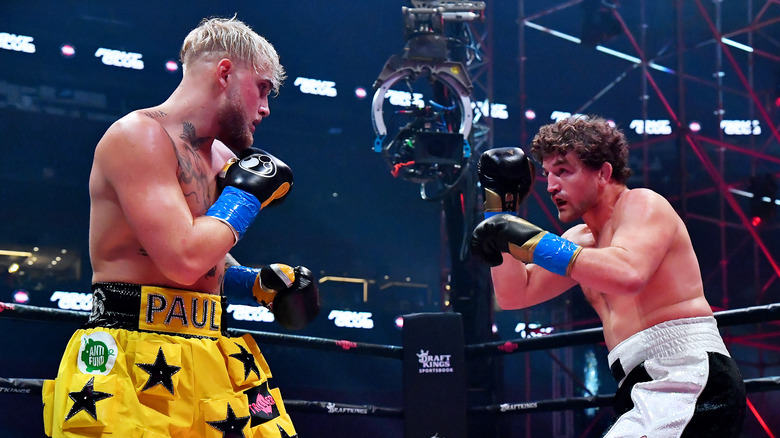 In typical Paul brother fashion, Jake Paul couldn't escape the media frenzy surrounding his blockbuster boxing matches. Upon facing and defeating Ben Askren — who is a two–time NCAA Division I national champion, Olympian, and winner of several Dan Hodge Trophies — the fight was lambasted by media critics and MMA analysts alike. MMA Mania pointed out that Askren, who was well past his athletic prime, was turning "37 in July" and was "coming off major hip surgery." The website also noted that Askren is "widely-regarded as one of the worst strikers in the history of MMA," despite his 19-2 record (his grappling background did help, though). Essentially Sports seconded the critique on Askren's striking.
Paul's match against Tyron Woodley from August 29 was not exempt from criticism as well. ESPN, while praising the fact that the two competitors brought young and fresh eyes to the boxing product, said the fight was "not the best presentation of boxing possible" and referred to Paul and Woodley as "neophytes in that world." The publication went on to note that "it just did not at all look like a high-level fight," but went on to laud its marketability and appeal to younger viewers — pointing out that "the fans there treated it like it was [a high-level fight]."
Despite Paul's critics, he's proven time and time again that he's a force to be reckoned with, and can convert his loyal fans into viewers. 
Source: Read Full Article