Heres How Sting Really Feels About Eric Claptons Controversial Vaccine Opinions
Who can believe legendary singer and songwriter Sting is 69 years old? The heartthrob rocker, who is also the father of the gorgeous Mickey Sumner, certainly isn't slowing down on producing music. According to Showbiz 411, Sting, whose real name is Gordon Sumner, is about to spring a new album on his ardent fans. The story goes that he was touring his Broadway show "The Last Ship" when the coronavirus pandemic hit in 2020. So, he used the six weeks that the show was unexpectedly anchored to start writing a new album called "The Bridge."
Sting's songwriting skills are revered; Sir Paul McCartney once gushed about the "Every Breath You Take" songwriter's work. Via Independent.ie, McCartney said in 2018, "I liked Sting's Fields Of Gold, and I thought, 'you know what, I should have written that. How dare he?'" The legendary Beatles singer even admitted that he even teased Sting, "'You stole my song.' I thought that was a nice one, you know?"
Sting is excited about his new album and its single "If It's Love," and he spoke to the Los Angeles Times about touring in the time of a pandemic. "Everyone should feel safe — the audience, the artist, the people working the show. I'm hoping the vaccines will really start to kick in by the time our show starts. I'm very much in favor of vaccines." Sting also revealed what he thought about his fellow artists with differing opinions. Keep reading to learn more.
Sting has "no truck" with vaccine doubters, including Eric Clapton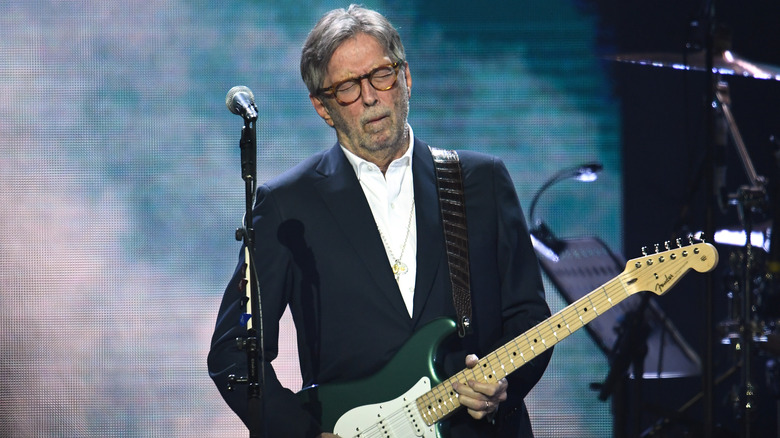 Eric Clapton has been vocal about his views on vaccinations for the COVID-19 vaccine. Rolling Stone reported that the 76-year-old guitarist had an adverse reaction to the AstraZeneca vaccine. He wrote a letter to Robin Monotti where he shared, "I continue to tread the path of passive rebellion and try to tow the line in order to be able to actively love my family, but it's hard to bite my tongue with what I now know." Per USA Today, Clapton also released an anti-vax song, "This Has Gotta Stop," where he sings, "This has gotta stop / Enough is enough / I can't take this b.s. any longer."
When the Los Angeles Times asked Sting what he made of Van Morrison (who has also spoken out against coronavirus vaccines) and Clapton's stance, he replied, "We're all entitled to our opinions." He then continued, "But I think that's a dangerous thing to be telling people: 'Don't trust the vaccines.' I mean, where does this come from? I'm not sure where the science is to support that."
Sting also revealed why he supports vaccinations. "I'm old enough to remember polio — kids in my street who were crippled by a disease that was eradicated very quickly by vaccines," he explained before adding, "So I have no truck with people who doubt their effectiveness." Yikes! We felt that, Sting.
Source: Read Full Article