Heres How Much Money Tiger Woods Lost In His Divorce
Tiger Woods' divorce from Elin Nordegren back in 2010 was one of the most talked about splits of any athlete ever. The main reason that the divorce was so publicized was because of a cheating scandal that rocked the couple's marriage — and threatened Woods' professional career. According to the New York Post, this all went down around Thanksgiving 2009. At the time, Woods tried to talk to his then-wife about a story that was set to be published in the National Enquirer. The story was about an affair that Woods was allegedly having with Rachel Uchitel. Rather than sit back and nod, Nordegren ended up going through Woods' phone, finding text messages that revealed that he'd been cheating on her.
Things got extremely complicated for Woods, who was outed in the media as a "serial cheater." In fact, a subsequent report from the New York Post claimed that Woods had 120 affairs over a five year span. Soon after Woods was exposed, he went to rehab for sex addiction, according to ESPN. It wasn't enough, however, as the damage had already been done. Nordegren decided to leave Woods, filing for divorce in Florida. According to the Daily Beast, Woods and Nordegren did have a prenuptial agreement that would have paid her some $20 million in the event of a divorce. But she ended up with way more. So, how much money did Woods really lose in his divorce? Keep reading to find out.
Tiger Woods was forced to pay Elin Nordegren about $100 million plus child support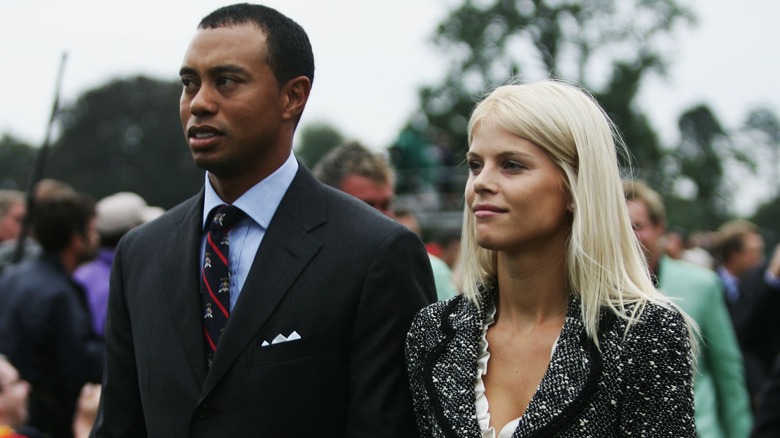 Since Tiger Woods cheated on his wife, the terms of their prenuptial agreement were up for negotiation. According to the Daily Beast, Woods tried to negotiate a deal with his ex, offering Elin Nordegren an immediate $5 million payout — and an additional $55 million — if she agreed to stay with him for two more years. She did not agree to those terms, however, and by the time the divorce was finalized, Woods was down about $100 million, according to TMZ. "The $100 million is way more than Elin would have received under the prenup," TMZ reported, a source telling the outlet that Nordegren would also receive child support for the couple's two children, Charlie and Sam, above and beyond that amount.
Celebrity Net Worth estimates that the famous golfer has a net worth of $800 million. The outlet indicates that Woods is one of the most well-paid athletes in the world, raking in between $50 and $60 million each and every year between competitions, sponsorships, and endorsement deals. While the status of Woods' payments to Nordegren in 2021 are not public knowledge, he still owed her about $54 million in 2015, according to USA Today. He is also still paying child support, which will continue until each of his kids turn 18.
Tiger Woods and Elin Nordegren have moved on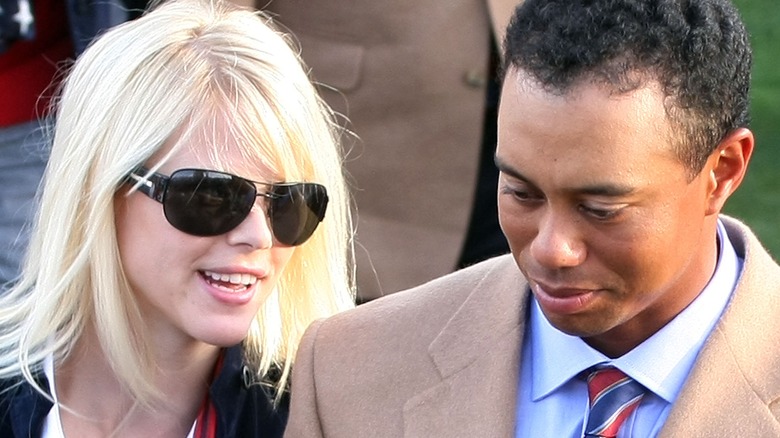 It has been more than a decade since their split and Elin Nordegren and Tiger Woods have both moved on. They continue to co-parent their children, but both Nordegren and Woods are in relationships with other people these days. 
Woods has been dating his girlfriend Erica Herman since 2017, according to Page Six. Back in April, Woods was involved in a single car crash while driving his Genesis GV80 just outside of Los Angeles, according to The Wall Street Journal. "Tiger is in good spirits and doing well, but he has not been able to play any golf at all," a source told People magazine in mid-August.
Meanwhile, Nordegren linked up with NFL star Jordan Cameron, and the two welcomed a child together in 2019, according to Radar Online. In March 2021, the New York Post reported that Nordegren dropped a cool $10 million on a new home in Palm Beach, Florida. The Swedish-born mother of three traded in her mega mansion — which sold for $49.5 million in 2018 — for something a bit more cozy. Her new home, which she presumably shares with Cameron, features 11 bedrooms and 15 bathrooms.
Source: Read Full Article