'Gone Girl' Star Rosamund Pike Was Told to Strip for Her 'James Bond' Audition
Rosamund Pike has come a long way since her early days in the business. The actor has been a standout in roles like I Care A Lot and Gone Girl, the latter of which got her an Oscar nom. But before she experienced this kind of mainstream attention, she was a Bond girl for Pierce Brosnan's Die Another Day. But to acquire the part, Pike revealed she had a bit of an uncomfortable audition.
Why Rosamund Pike hated getting attention as a Bond girl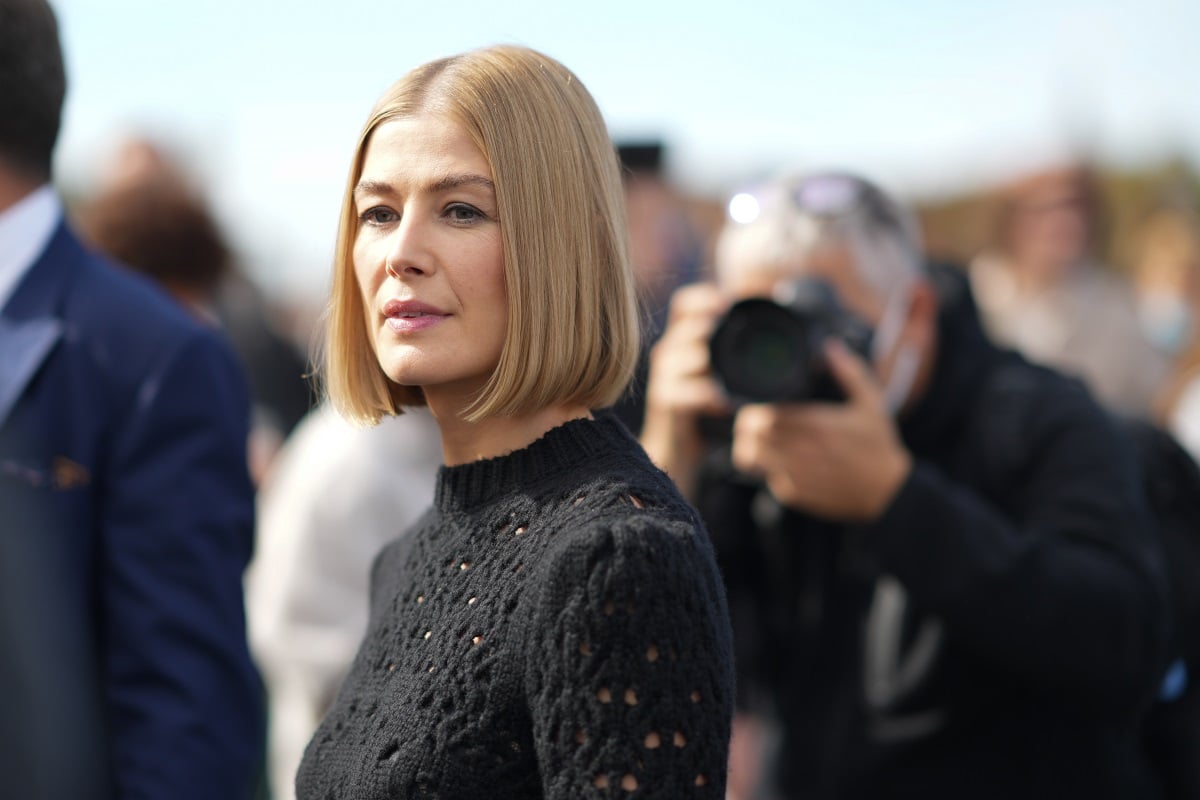 Die Another Day was not only Pike's feature film debut, it was also her first introduction to James Bond's world.
"Everything was new to me, everything. There's so much mythology around the Bond films, there's so much riding on it, "Pike once told EW. "From the very first car ride I took to the audition, in a Jaguar, I thought, 'This is like a magic carpet into a new life.'"
But not everyone was completely happy being a Bond girl. Years later, Pike admitted she hated the attention the role brought her way.
"It can be quite annoying," Pike said as reported by Empire. "I was on the Tube in London recently and some teenage boys were pointing and staring and asking if I was the girl in the Bond movies. I denied it."
Rosamund Pike was told to strip off her clothes for her 'James Bond' audition
The role might have been a dream come true for the Gone Girl star, but the audition process might have been anything but. Pike discovered there were things she had to do in the audition she wasn't entirely comfortable with. One of those things involved undressing for the part.
"My first audition was for a Bond film, and I remember them saying I was to drop my dress and appear in my underwear," Pike said according to The Hollywood Reporter. "I don't know how I got the resolve and strength of mind, but I just thought, 'Actually, sod that, if they're gonna see me in my underwear, they better give me the job.'"
Pike wore her grandmother's gown originally for the audition. But the costume designer at the time wanted an alternative.
"'That's a very beautiful dress,'" Pike recalled the costume designer said. "'But in Bond films, we wear things like this,' and she held up three pieces of string."
Pike eventually compromised with those on set to become Pierce Brosnan's new Bond girl.
"I realized I was in a completely different world and way out of my depth. So, I put on this shimmering sheath, or whatever the order of the day was, but I didn't drop it," Pike said.
Rosamund Pike had an easier time kissing Ryan Gosling than she did kissing Pierce Brosnan
The Hollywood Reporter noted that she was still comfortable on the movie's set despite the audition. Pierce Brosnan, in particular, was someone she mentioned who helped her with the process. But when it came down to their kissing scenes, Empire asserted that Pike might have had a difficult time. At least when she compared kissing Brosnan to kissing another co-star in Ryan Gosling.
"I'm filming a smaller independent film called Fracture and I have to kiss a fabulous actor called Ryan Gosling. He's a great kisser – it's so different from my first on-screen kiss with Pierce," Pike admitted.
One reason Pike might have found Gosling easier to kiss was because of the age gap between her and Brosnan. Brosnan was in his 40s at the time.
"I was 21, you had to do a love scene with Pierce," Pike once said on The Late Late Show with James Corden. "He was considerably older than me at the time, I'd never done anything like that in my life."
Source: Read Full Article