For Every Time Amber Heard Has Been Controversial, This Moment Stands Above The Rest
The following article contains allegations of domestic violence.
When it comes to Amber Heard, it's almost hard to sift through all the controversy that has beleaguered the "Aquaman 2" star in recent years. Her divorce from Johnny Depp in 2017 isn't just one controversy but one comprised of a constellation of hotly debated moments, with accusations of domestic violence volleyed from both sides. For instance, stylist Samantha McMillen testified that she "could see clearly that Ms. Heard did not have any visible marks, bruises, cuts, or injuries" the day after an alleged incident of domestic violence, via the Daily Mail.
There has also been the contested issue over whether Heard donated her $7 million divorce settlement to the ACLU and the Children's Hospital Los Angeles as promised (via Deadline). In March 2021, Depp's legal team claimed Heard failed to fulfill her vow, characterizing it as a "calculated and manipulative lie" weaponized to sway court opinion toward her. Heard's lawyer, meanwhile, said that the promised donations were "delayed" due to her legal fees but would be fulfilled.
This is not to mention that Depp alleged, in a 2020 libel lawsuit against The Sun per the Daily Mail, that his ex-wife, Cara Delevingne, and ex-boyfriend Elon Musk had "a three-way affair" before their divorce finalized in 2017… using his penthouse suite. Given all of these murky scandals, however, the following moment still stands out as Heard's most controversial. 
If you or someone you know is dealing with domestic abuse, you can call the National Domestic Violence Hotline at 1−800−799−7233 or TTY 1−800−787−3224. You can also find more information, resources, and support at www.thehotline.org.
Was this controversy's culprit Amber Heard or her dogs?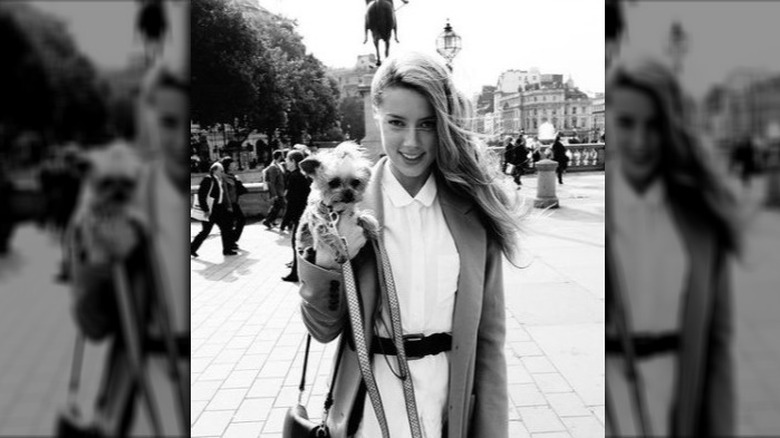 It was the "human or dog poop" question "heard" around the world… In Johnny Depp's July 2020 libel lawsuit against The Sun, his written statement, which was read in court, per the Mirror, stated that following ex-wife Amber Heard's 30th birthday party at their penthouse in 2016, "the following morning, Ms. Heard — or possibly one of her friends — defecated in our shared bed" (via Page Six). Heard — who allegedly told him it was their teacup Yorkshire Terrier's fault — had told their estate manager "that leaving the feces in the bed had been 'just a harmless prank,'" Depp stated, "thereby effectively acknowledging that she had been responsible." (Fans also pointed out that a tiny Yorkie would likely be too small to leave that size of waste, per CinemaBlend.)
Why is this the controversy of all Heard controversies, even in light of the multi-year legal battle with Depp? Well, according to Depp himself, via The Hollywood Reporter, this was the "last straw" that broke their marriage. As Depp told a London court in July 2020, "I thought that was an oddly fitting end to the relationship." 
Moreover, the controversy gave rise to many memes and puns. "Type in 'poop bed' on google and scambers most famous work is page 1, position 1," pointed out a Twitter user in August 2021. Another tweeted then, "Johnny Depp won his lawsuit against Amber turd. That's the tweet," with #AmberTurd taking off as a popular hashtag.
Amber Heard's runner-up controversial moment also involves teacup Yorkies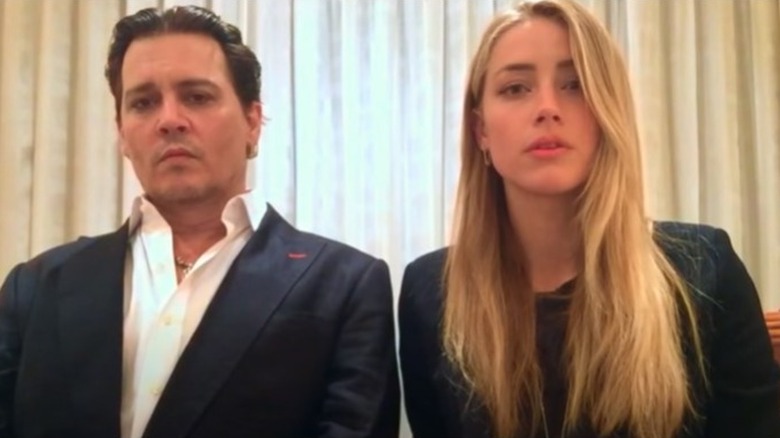 Before her 2017 divorce from Johnny Depp, there were simpler times for Amber Heard. Prior to the exes' ongoing legal battle, they were embroiled in an unexpected controversy after bringing their two Yorkshire Terriers into Australia without an import permit and completing the requisite pet quarantine in April, per BBC News. This led to Heard being charged with animal smuggling, with her pleading guilty to illegal importation and being issued a one-month "good behavior bond." The agreement included the couple filming an apology video promoting Australia's biosecurity laws.
With Heard stiltedly "enthusing" about Australia's "treasure trove" of wildlife, Depp added stiffly, "When you disrespect Australian law, they will tell you firmly," calling Australians a "warm and direct" people in a tone that was less warm and more wincing. Depp and Heard's seemingly expressionless delivery elicited mockery and satire. Inspired by what he called their "heartfelt apology," Stephen Colbert (and a staff member as Heard) performed a "The Late Show with Stephen Colbert" segment in which he "realized there were a few things he needed to take responsibility for." Comedian Ricky Gervai tweeted, "The Johnny Depp apology feels like a hostage video."
Australian Deputy Prime Minister Barnaby Joyce, however, was not amused, singling Depp out and saying, via Us Weekly, "I think he's auditioning for 'The Godfather.' He's very good at playing every person except Johnny Depp." 
Source: Read Full Article