CMA Awards 2021: Carrie Underwood Side-Eyes Luke Bryan Over Immunized Joke
While others are amused by the joke, it isn't the case for the 'Jesus, Take the Wheel' and her husband Mike Fisher, who defends Aaron Rodgers amid backlash over his COVID-19 vaccine comments.
AceShowbiz –Luke Bryan tackled Aaron Rodgers' COVID-19 controversy in his monologue while hosting the 2021 CMA Awards. When opening the award-giving event, which took place at the Bridgestone Arena in Nashville, Tennessee on Wednesday, November 10, Luke joked about the recent comments about vaccine.
"We're following all the health protocols to keep everyone safe and it's so great to be here with all my fellow artists, tested and together," the "That's My Kind of NIght" singer said. "Or immunized? Who is it? Just playin'!"
The joke was clearly in reference to Aaron, who said earlier this year that he "immunized" against COVID-19. However, it was recently revealed that that the Green Bay Packers quarterbacks, who tested positive for COVID-19 earlier this month, had not gotten the COVID vaccine.
While others were amused by the joke, it wasn't the case for Carrie Underwood and her husband Mike Fisher, who defended Aaron amid backlash. As soon as Luke made his joke, the cameras panned to the "Jesus, Take the Wheel" songstress, who seemingly gave Luke a "side eye" for the comments.
"The camera shot of Carrie Underwood when Luke Bryan mentioned who has their shots…priceless," one fan wrote on Twitter. Another tweeted, "Carrie Underwood looks less than thrilled to be in the room with these humans," while someone else added, "Holy hell did you just see that look Carrie Underwood had in her face."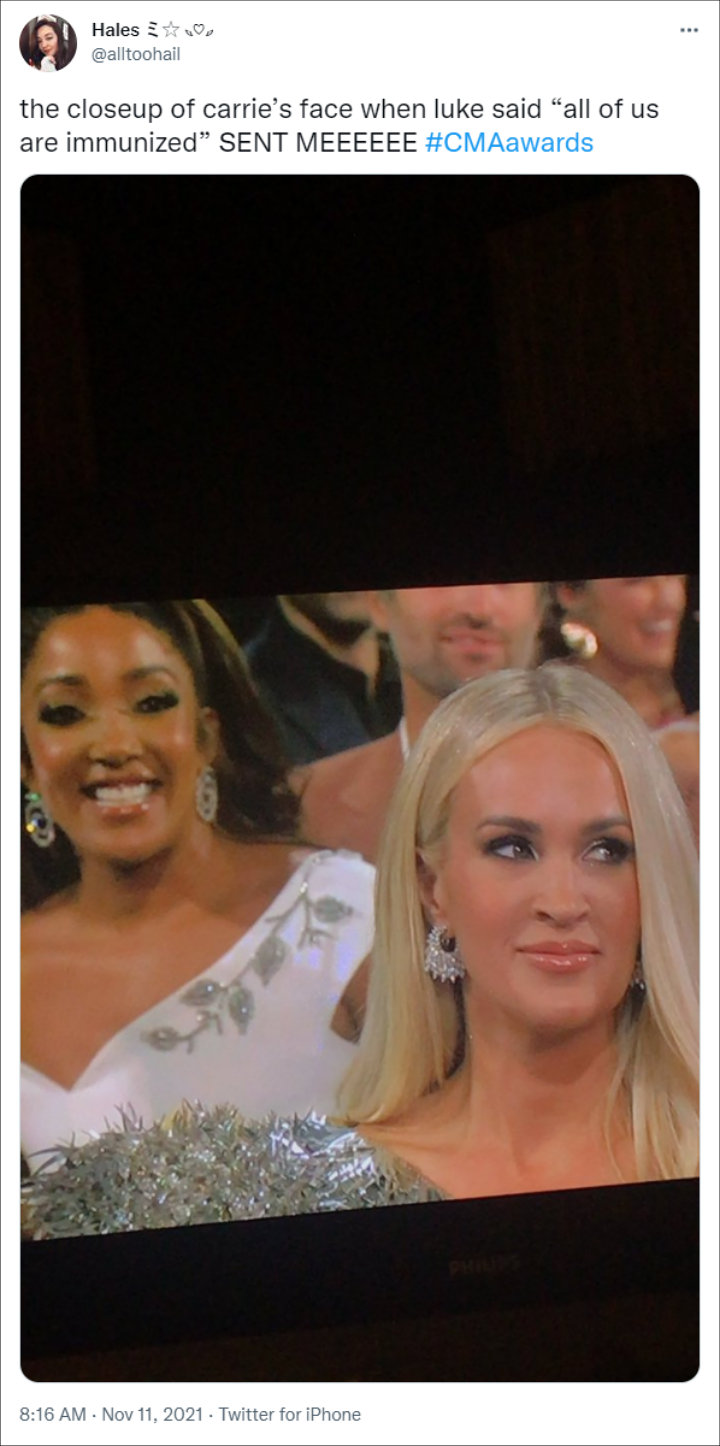 Fans believed Carrie Underwood gave Luke Bryan a side-eye over 'immunized' joke at CMA Awards.
Mike showed support for Aaron and his vaccine stance in an Instagram post on November 6. "I stand with @aaronrodgers12 I believe in the freedom to choose what we put in our bodies and the freedom of conscience. I agree with him in that the science clearly shows the vaccinated spread covid at basically the same rate as the unvaccinated," he wrote.
"The @nhl @nfl and other leagues are ignoring the science and choosing to coerce and punish unvaccinated players with these restrictions. If they really cared about people's health they would have daily testing for all. But these past 2 years has clearly shown us that this is not about our health, it's about control over our lives. I won't stand for that," the former captain of Nashville Predators added. "It's time to fight for our medical freedom and I feel for those that have been fired for choosing medical freedom. People losing their jobs over a medical choice is un-American and unacceptable. We need to stand up now before it's too late!!"
Source: Read Full Article