Alice Evans Brands Ex Ioan Gruffudds New GF Creepy for Liking Family Photos Before Seducing Him
The 'Vampire Diaries' alum calls out Bianca Wallace after the alleged mistress 'spent many months' liking pictures of her little family before 'stepping in and seducing the father.'
AceShowbiz –Alice Evans has called out estranged husband Ioan Gruffudd's new girlfriend, Bianca Wallace, for posing as a family friend when she was really "seducing" him. The former "The Vampire Diaries" star branded her ex's alleged mistress "creepy" for liking her family photos.
"Creepy," the "102 Dalmatians" star wrote while reposting a now-deleted tweet, which showed Bianca liking a family photo of Ioan and Alice with their children in 2019. The 53-year-old actress added, "Bianca Wallace spent many months liking pics of our little family before stepping in and seducing the father."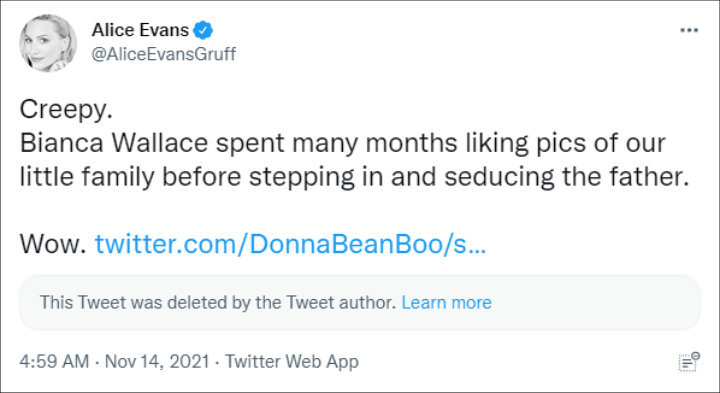 Alice Evans called out Bianca Wallace for liking her family photos before flirting with her ex-husband.
A few days earlier, Alice shared Bianca's Instagram post from September 19, in which the "Dora and the Lost City of Gold" actress wrote she was going to be away from her dog for two months. Along with the photo, Alice wrote, "How to be a good Mistress, Part One: 1) Don't send out silly… Instagrams like this when you're semi-naked and horse-teethed telling people 'I'm just going to miss the dog' BULL. S**T. You're going to sleep with my husband."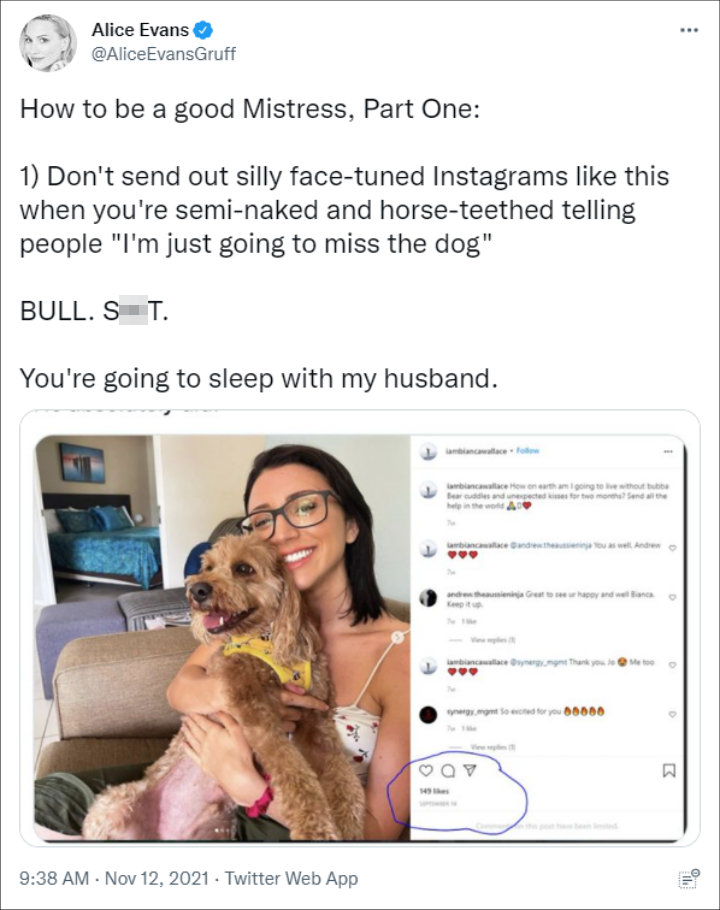 Alice Evans posted another sarcastic tweet about Bianca Wallace.
Upon learning her furious tweet, one of Alice's followers chimed in to share support for the actress. "All they had to do was not post a photo bragging about it. So simple. Common effing sense," the unimpressed fan wrote.
Alice responded, "It's the fatal flaw. It shows that she just couldn't wait. (Patience is the only real virtue my husband had and he has it in spades) But by God, she must be good." She added, "To convince him to post a life-wrecking simple post like that. Just for her."
One day after, Alice tweeted, "The only question remaining in my mind is 'why?' Why spend 2, maybe 3 years pretending?" The former star of "The Originals" added, "Was there not a moment where you felt it was on you to take a stance and stick to it? Were you together when we went to Moscow? (PLEASE SAY NO) What about our trip to France? (oh god)."
In a separate tweet, Alice, who split with the Welsh actor in January, said that she's unable to sleep at night after learning about his new relationship. "Can't sleep. I used to think I would die for him. What was wrong with me? I just had total confidence that in this world, He was the one person I could absolutely count on My rock. My honey. My best friend," she confessed.
As for Ioan, he made public his relationship with Bianca in October. At that time, he posted a loving photo of the couple on his Instagram account. "Thank you for making me smile again @iambiancawallace," he sweetly captioned his post.
Source: Read Full Article